Changes in eating habits: Ramadan does not taste the same in Syria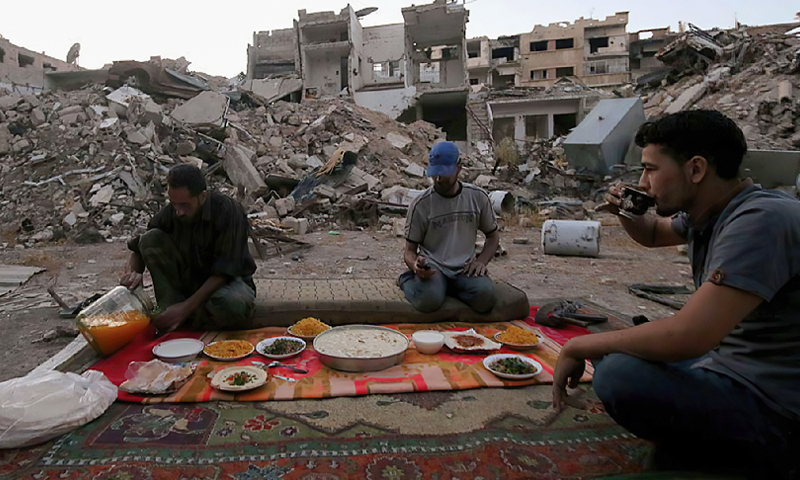 Enab Baladi – Jana al-Issa
Against one of its essential aspects, kareem or the generous month, Ramadan arrived in Syria with a full package of lifestyle changes, particularly of eating and food sharing habits.
Stricken by the 10-year-war, populations across Syria have been battling with a manifold living crisis. With rising rates of unemployment, shrinking meager incomes, soaring prices of or lacking essential goods, Ramadan had to be adapted to new household economy dynamics.
Syrian Muslims had to relinquish many former Ramadan habits, including the usual collective iftar banquets—fast-breaking meals with families and friends had to adhere to tightening budgets.
Ramadan is different this year
Based in Homs, Khaled Wahoud, the head of an 8-member-family, has two jobs. He is a government employee by day and a taxi driver by night, with a monthly salary of 56,000  Syrian pounds (17.5 USD). His sons also work; they have picked all sorts of odd jobs to help him. At the end of the day, all they can get is bare necessities. 
"These are difficult times! Even though we are working day and night, we can barely afford basic family needs; sometimes not all the needs," Wahoud said. 
He added that Ramadan has its own rituals, including a giant meal of flavorsome and hearty dishes. Attached to the ritual, Wahoud reduced costly meat dishes ahead of Ramadan, saving what he could to afford beef, lamb, and chicken on the month of fasting. 
Unlike Wahoud, Youssef Suleiman, 38, is the sole breadwinner of his family of five, which he supports through raising cattle in the city of Daraa.
Suleiman told Enab Baladi that his income is no longer sufficient to meet his family's basic needs due to the high prices of fodder and additional costs that raising cattle requires. 
He pointed to the steep rise in food prices since last Ramadan. In 2020, he used to buy a kilo of chicken for 1,500 Syrian Pounds (SYP-0.47 USD), while today he has to pay a hard-earned 5,000 SYP (1.57 USD).
"We had at least five chicken meals last Ramadan. This year, things are going to be different," he said, adding that a kilo of rice and one chicken cost 20 thousand SYP (6.2 USD), not to mention the costs of ghee, cooking fuel, and spices. 
requesting that her surname be withheld for security reasons, Eman, a Daraa-based school teacher, told Enab Baladi that given her income, Ramadan will be "extra difficult" this year. 
Eman cannot afford to buy most of the food products needed for iftar and Suhur (pre-dawn meal), which she says are extremely expensive compared to former Ramadan prices.
Eman has a stable teaching salary of about 38 thousand SYP, while her husband does not, for he works on farms, and on an irregular basis. Joining their earnings, the family can buy merely their very essential commodities. 
Salaries in Syria range from 37 thousand SYP (8 USD-lowest average) to 663 thousand SYP (about 146 USD highest average). A person working in Syria, in both the private and public sectors, earns 149 thousand SYP (32 USD) per month, according to the Salary Explorer website.
No iftar invitations 
Iftar is not about having a rich banquet; it is an occasion to celebrate family ties, friendships, and enjoy the blessings of sharing food with a fasting person. However, low-income people this year can no longer afford to invite someone to iftar, which is costing them money surpassing their income, if any.  
Mounir, a government employee in Aleppo, decided to have all his iftar meals at home. He will not accept any iftar invitations because of his difficult financial situation, which he shares with all his acquaintances. "Ramadan banquets in such dire circumstances are a heavy burden to people," and also a potential source of unease and embarrassment for those who cannot afford to present the usual feast. 
Wahoud too said that "the time of Ramadan iftar invitations and banquets is long passed," adding that preparing Iftar for 10 fasting people costs over 150,000 SYP. 
In a 5 April report, Qasioun, an online economy newspaper, reported that the cost of living for a five-membered family increased by 42 percent since the first months of 2021, amounting to one million and 40 thousand SYP last March. 
Main Ramadan dish has only vegetables
With the rise in meat prices, many Syrian families are looking for less-costly alternatives, restricting many of their recipes to vegetables. However, Mounir estimated that the lowest cost for an all-vegetable iftar meal is probably over 10,000  SYP (3 USD). 
 Noura, who declined to mention her full name, said that she did not do the usual pre-Ramadan food shopping. She could not purchase basic foods because of their high prices, which further rise with the approach of Ramadan.
Noura added that "During Ramadan, we used to serve special dishes and beverages including drinks of tamarind and licorice, as well as Maarouk bread (sweet brioche bread)."
However, she removed all these traditional desserts and refreshing Ramadan drinks from the purchase list, considering them a "luxury," not a necessity. 
On 31 March, the government Syrian Trade Establishment (STE) said that the Syrian citizens' meat consumption fell to less than 25 percent, below regular annual consumption.
Majdi al-Bashir, the STE-linked slaughterhouses director, told al-Watan, a pro-government newspaper, that meat consumption has decreased since 2010 from nine kilograms per person to two kilograms annually, indicating that prices have increased 20 times over the past years.
Admon Qutaish, the head of the Butchers' Association in Damascus and its countryside, said on 8 March that 15 percent of meat stores were closed by falling demand, warning that livestock in Syria is "threatened with extinction."
In an interview with Sham FM radio station, Qutaish explained that the total amount of meat consumed [in regime-held areas] decreased by 40 percent due to the high price. Only well-off people have the purchasing power to buy meat. He said that the main reason for the high prices of meat is that livestock is being smuggled to "Lebanon and northern Syria."
No more sending Ramadan dishes to neighbors
Aleppo-based Jamila, who declined to mention her full name, told Enab Baladi that she will not be able to buy a varied list of food due to her low income. Therefore, she will minimize the Iftar menu, serving her fasting family one dish only every day. 
Jamila feels so sad because people will no longer be able to exchange Ramadan dishes this year since almost everybody is concerned about meeting their family's needs. 
At the Brussels Fifth Conference for Syria, held at the end of last March, the UN World Food Programme (WFP) appealed for the funds it needs to provide urgent food assistance to millions of Syrians who face worsening humanitarian conditions since the start of the conflict.
In a statement published on 28 March, the WFP said that 12.4 million people in Syria, 60 percent of the population, "do not know where their next meal is coming from." Syrian people are already suffering a worsening humanitarian situation and high food prices, which increased by 222 percent within a year.  
The WFP stated that there is a noticeable deterioration in the living conditions of Syrians, which are primarily driven by the protracted conflict, mass population displacement that has eroded livelihoods and resilience, in addition to the economic crisis since 2019.
About 90 percent of Syrian people have been living under the poverty line since 2020, according to Akjemal Magtymova, the World Health Organization (WHO) representative in Syria.
Syria also tops the list of the poorest countries in the world at a rate of 82.5 percent, according to global "World By Map" data.
if you think the article contain wrong information or you have additional details Send Correction