Public auction to invest olive groves in Hama in the absence of their owners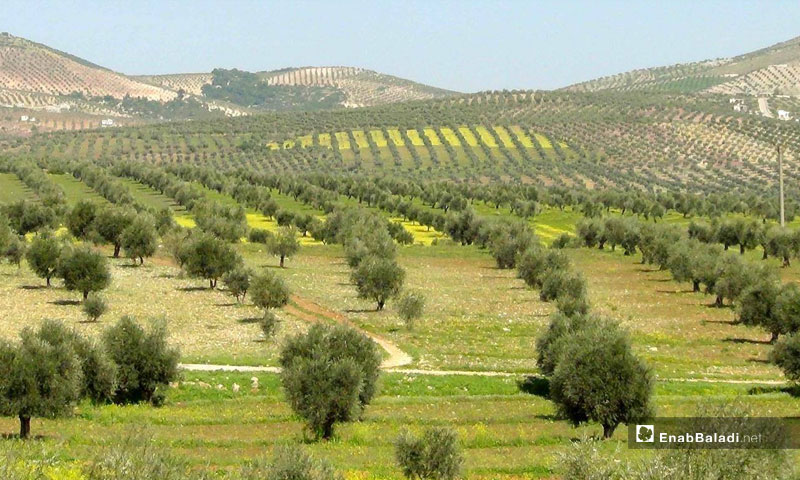 The "Asset Management Committee" of the Head of the Military and Security Commission in Hama province has announced a public auction for the investment of olive groves for one agricultural season of 2020 in the al-Salamiyah area owned by people either residing in areas held by the Syrian opposition factions or outside of Syria.
The committee added in its decision published on 3 November that an auction would be held to invest the lands in al-Salamiyah and all villages affiliated to al- Salamiyah directorate, according to what was published by the official "Facebook" page of the "Peasant's Union of Hama Governorate."
The al-Salamiyah area's villages included in the auction are al-Ayour, Ali Kasoon, al-Bardouneh, Jib al-Rayyan, al-Abayka, Jurooh, Rsm Qunbur, Rsm al-Khudeira, Tel al-Albawi.
The auction also included villages in the area of al-Saboura directorate, including the village of Dahsh, al-Saan, Tel Anmar, Foyrah, al-Qanafeth, Aqareb, Msherfeh, al-Masri, Mheleh, Khnefes, al-Doussa, al-Aoja, Abu al-Kusoor, al-Owais al-Shimali, Jib Khasarah, Abu Jurh, Unuq Bahir, Bfedeen, al-Hisq, Sarha, and al-Shaderq.
The auction announcement mentioned that the lands included in the auction belong to people living outside Syria's territory in areas controlled by "armed groups."
Public auction
The properties and shops are offered for public auction after their seizure due to their owners' failure to pay their financial obligations under the provisions of the Syrian Civil Procedure Code.
The foreclosure of the Military Housing Establishment's properties might also be due to their ownership by dissident officers from the al-Assad regime's army; therefore, they were auctioned for sale.
Moreover, a property cannot be sold in the public auction unless registered in the cadastre, according to the governing provisions of the Land Registry of Law No. 188 of 1926.
Farmers displaced from northern Hama countryside and southern Idlib countryside cannot reach their pistachio farmlands and olive groves due to the Syrian regime's control over these areas.
if you think the article contain wrong information or you have additional details Send Correction