Public auction in Hama excludes confiscated lands or those witnessing military deployment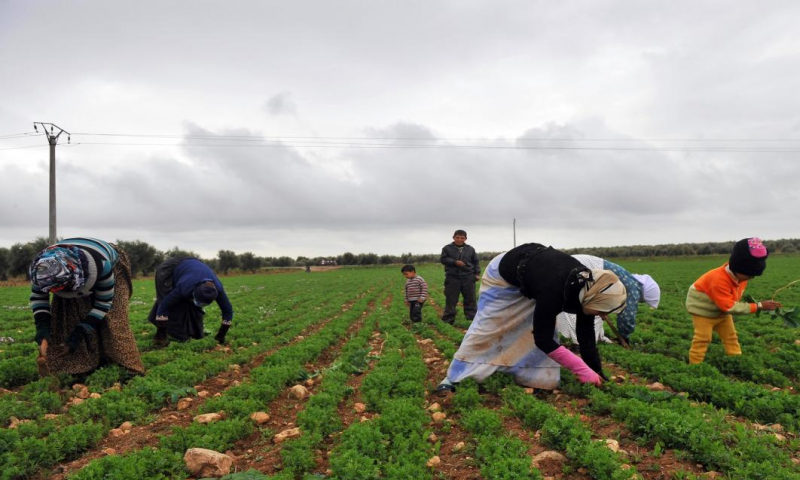 The "Asset Management Committee" of the Head of the Military and Security Commission in Hama province has announced an auction for the investment of lands for one agricultural season (2020) in the towns and villages of the al-Ghab area. These lands are owned by people residing in areas held by the Syrian opposition factions or outside of Syria.
In a statement issued on 23 October, the committee excluded lands located in areas witnessing military deployment or those confiscated for the benefit of any security authority from the auction, according to what was published by the official "Facebook" page of the "Peasant's Union of Hama Governorate."
The committee set the auction date on 28 October in the cultural center of al-Suqaylabiyah city in Hama province.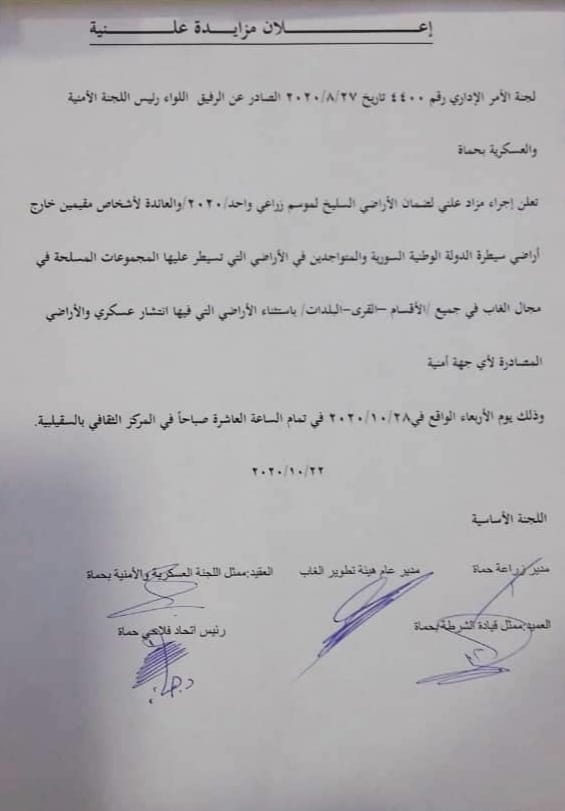 Successive announcements of auctions
Lately, the "Asset Management Committee" in Hama announced a series of auctions. The number of these auctions reached four announced auctions during this October.
On 17 October, the committee held two auctions, the first of which was to invest the lands in the al-Salamiyah area and all villages of the al-Salamiyah and al-Saboura directorates within the surroundings of the al-Salamiyah area.
The second auction was intended to invest uncultivated lands and olive groves in the al-Ghab area for one season (2020) in the fields and villages of the al-Kalaa and al-Jeed areas.
On 14 October, the committee held an auction in the Mhardeh area, including the towns of Kafr Hood, Kafr Zita, al-Sayyad, al-Arbaeen, al-Hamamyat, al-Zaka, Halfaya, Tal Malah, al-Jalmah, al-Shaykh Hadid, al-Safsafiyah, al-Tremseh, Shaizar, Jdeiydeh, al-Jabeen, Majdal, and al-Zalakiyat.
Public auction
The properties and shops are offered for public auction after their seizure due to their owners' failure to pay their financial obligations under the provisions of the Syrian Civil Procedure Code.
The foreclosure of the Military Housing Establishment's properties might also be due to their ownership by dissident officers from the al-Assad regime's army; therefore, they were auctioned for sale.
Moreover, a property cannot be sold in the public auction unless registered in the cadastre, according to the governing provisions of the Land Registry of Law No. 188 of 1926.
if you think the article contain wrong information or you have additional details Send Correction