Home-made soap is back to Daraa to confront Coronavirus and high pricing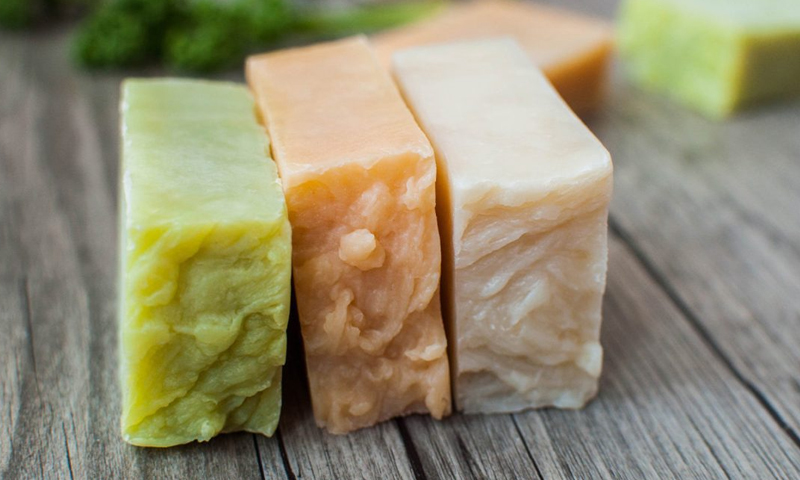 Daraa – Halim Muhammad
In the Tell Shihab village of southwestern Daraa countryside, "Umm Omar" has collected the frying used oil waste to prepare home-made soap to provide the needs of her family who became preoccupied with sterilizing and cleaning materials to confront the "dangerous" virus.
Soap and cleaning materials have recently been handmade in Daraa. Before, the residents used to buy soap until detergents' price rose following the novel Coronavirus (COVID-19) pandemic outbreak in Syria.
The simple soap-making method is not new to the governorate's residents, who have relied for decades on securing what they need from the market. However, the virus crisis turned soap making into an emergency option for the forty-something housewife.
How is soap made at home?
In a spacious, open-windowed room, Umm Omar tries to tighten the face mask on her face while wearing leather gloves because she is about to work with chemical materials that require "caution." 
"Sodium hydroxide (lye solution or soda) is skin-blistering and affects the respiratory system," she told Enab Baladi.
The mixtures of Sodium hydroxide, foam materials, viscous materials, and fragrance oil were obtained by Umm Omar from a spice shop in the nearby town of Tafas.
"I prefer to use lemon or Jasmine fragrance," Umm Omar said while pouring water first into the large plastic bowl.
After mixing chemical substances and fragrances with water, Umm Omar adds soda, a white crystalline solid part that immediately increases the mixture's temperature. She continues to stir the mixture until the materials are melted together and then adds used oil waste with a little salt and flour.
Fresh olive oil can also be used to get an "excellent" quality soap instead of frying oil; however, families are looking for a lower cost, according to Umm Omar.
She stirs continually for at least one hour and one and a half for the mixture to hold together, which depends on the quality of the materials used and commitment to ingredients' amounts. Then, Umm Omar pours the mixture into a wooden mold, cut it into small bars, and spread it in a shadowy place.
The manufactured soap is only used after at least 20 days of its preparation.
Not an easy task, but soap's high pricing is pushing people to handmake it
Thirty-year-old Safaa, a daily worker in agriculture for a fee of less than 1.30 USD per day and who helps to support her family, is no longer able to buy industrial soaps after its carton's price reached the price of 6.25 USD.
The young woman had to try the handmade soap manufacturing and told Enab Baladi, "I find it difficult to make it, and the smell of soda disgusts me."
Enab Baladi monitored the high prices of detergents in Daraa, where the price of a carton of soap doubled from 7,000 to 15,000 Syrian pounds (SYP = 2 to 5 USD) since the beginning of this year. As for the dishwashing liquid, its liter reached the price of 500 SYP after it was 125 SYP (less than a US dollar), while the kilo of laundry detergent rose from 500 to 1700 (SYP = 0.171 to 0.58 USD).
Safaa expressed to Enab Baladi her fear of a coronavirus spread in her region. At the same time, Umm Omar said that she is buying soap in double quantity after the virus's outbreak. Umm Omar always reminds her family of five of the need to use soap continuously after handshaking anyone or touching any object.
In a study published on 15 April, the United Nations Economic and Social Commission for West Asia (ESCWA) estimated that 74 million people in the Arab region were at risk of being infected with the coronavirus due to the absence of handwashing facilities.
While the World Health Organization (WHO) considered hand washing as the best defense against the coronavirus, assuring that handwashing practice should not be done for less than 20 seconds in order for the soap to kill the virus.
if you think the article contain wrong information or you have additional details Send Correction