Al-Ghab Plain farmers cling to their lands despite obstacles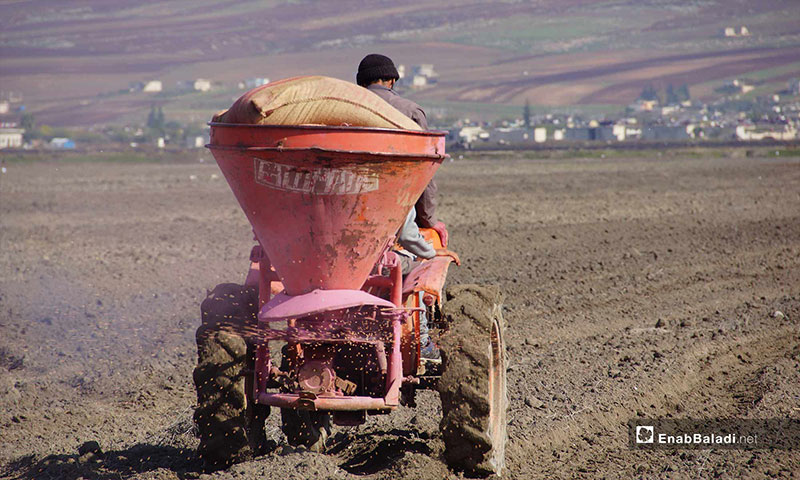 Enab Baladi – Eiad Abu al-Joud
Farmers of al-Ghab Plain in the western countryside of Hama province, are clinging to their lands in defiance of all the difficult circumstances and hardships they face, especially after the increase in numbers of people displaced from the area, and the decrease of temperatures in the past winter season.
Last year, villages and towns of al-Ghab Plain witnessed frequent waves of displacement from the area in conjunction with the Syrian regime advancement to Qalaat al-Madiq (al-Madiq castle) and controlling it on 9 May 2019, while attempting to move forward to the northern villages in the area.
This led to a decline in the two most dependable professions by the residents, farming, and cattle grazing, thanks to the area's plain ground. Nevertheless, some farmers in the area refuse to give up on their lands and are still resisting.
" lands are the source of dignity… and livelihood"
Ahmed al-Tayeh, a farmer from al-Ghab Plain, spoke to Enab Baladi about the reasons behind clinging to his land, and his refusal to abandon it both physically and financially.
"The land is the source of human dignity, we inherited it from our parents, and they inherited it from their ancestors."
With these phrases al-Tayeh portrayed his connection with his land; for when he is distressed, he reaches it for comfort, and he is willing to give everything away expect his land, as per his expression.
Apart from passion, the absence of job opportunities, and lands fit for cultivation in the displacement areas, makes it almost impossible for him to contemplate the decision to just leave his land.
What made farming harder in the al-Ghab Plain?
Mussab al-Ashqar, a media activist in the area, spoke to Enab Baladi about the condition of agriculture and farmers in al-Ghab plain, linked it to the decline in the number of livestock breeders.
According to al-Ashqar, farming in al-Ghab Plain has become very expensive due to the suspension of dams and water pumping stations, which forced farmers to rely on high-cost artesian wells. In addition to the hike in prices of seeds, fertilizers, pesticides, and tillage operations.
Al-Ashqar added, the remaining farmers in al-Ghab plain, are residing in the northern part of it, and their corps' fate remains unknown during the harvest season, due to their lands' closeness to the regime forces positioning points, which makes them an easy target to the regime.
Moreover, if these crops remain unharvested, this will lead to an increase in the poverty rate in the region, an increase in crops' prices, such as wheat, barley, and vegetables, as well as the prices of cows and sheep milk let alone dairy products.
Al-Tayeh, also told Enab Baladi about the difficulties he encounters in his land, mainly lacking a safe environment for farming, as it is not easy to use tractors or the harvester while being monitored by the regime's forces and even targeted at some times.
Al-Ghab Plain's agriculture in the past and present time
In the past, al-Ghab Plain surrounding areas were much safer, especially with the availability and low cost of agricultural materials such as seeds and fertilizers, as well as fuels.
According to al-Tayeh, the price of one litre of diesel was 300 Syrian Pounds (SYP); however, today it costs about 800 SYP, and the exchange rate of the US dollar was 500 SYP, while today it is estimated at 1,250 SYP, leading to an increase in prices in markets as well.
Al-Tayeh land's profit returns have dropped down by almost half, as one dunam (1000 square meter) of wheat used to gain him about 75,000 SYP (150 USD), while today "it does not cover its cultivation costs" as per al-Tayeh expression.
Also, one dunum of cucumbers had profits of about 450,000 SYP (900 USD) for al-Tayeh, but today it makes only 200,000 SYP (16 USD) as profit.
Absence of support and insufficient production for consumers… What is the role of the local council?
Member of the Zeyzoun local council, Abdul al-Haseeb al-Tayeh, stressed to Enab Baladi the necessity of repairing roads and water canals, providing farming support of (fertilizers, seeds, fuel, pesticides, plastic tubes), as well as securing markets to sell the agricultural produce, to resolve farmers' problems.
According to the farmer al-Tayeh, the cultivated area of lands does not exceed half of what was cultivated in the previous years; therefore, this year's production will not be enough for consumers in the region.
Besides, farmers have also delayed planting their seeds due to the adverse weather and recent conflicts in the region, which means that they will not be able to count upon the agricultural season.
Despite his limited resources, al-Tayeh extended water-pumping tubes from the Kastoun dam to irrigate his crops, as "there is no support to their local council from international or local organizations specialized in agriculture," according to al-Tayeh.
if you think the article contain wrong information or you have additional details Send Correction