Primitive farming in al-Ghab Plain due to security reasons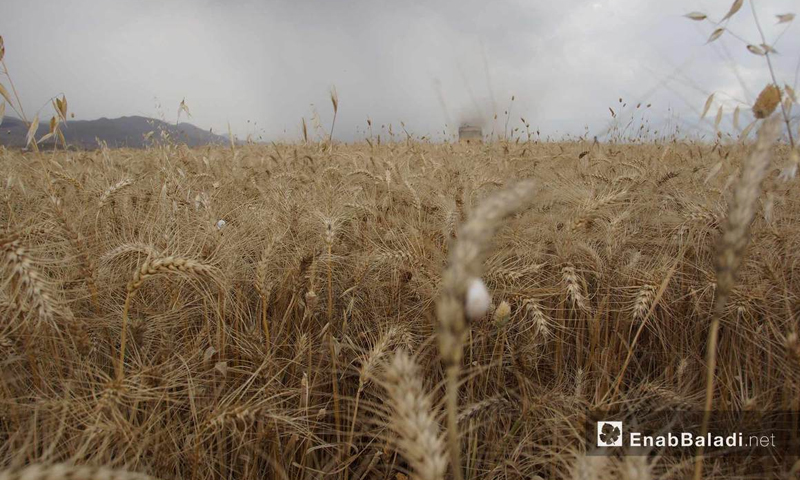 Hama countryside –  Eiad Abu al-Joud
Farmers in Hama countryside suffer from a decline in wheat production in the current season compared with previous seasons, amid restrictions on their movements and difficulties they face when growing crops.
Local farmers fault the Syrian regime forces for these difficulties since they control vast agricultural areas in al-Ghab Plain in Hama countryside. Additionally, to the closeness of clashes lines to their lands, held by opposition factions.
Tightening security grip on agricultural lands
In 2019, Syrian regime forces launched a military operation on al-Ghab Plain, which extends from Qalaat Al-Madiq town to the south of al-Qarqor village in the north. The campaign targeted most of agricultural lands in the area. This resulted into a sort of interruption in the agricultural activities after residents were forced to displace to border areas in the northern west of Syria, based on what Anas Tarboush, an agricultural engineer, told Enab Baladi.
This year, despite security risks, some farmers planted wheat crops in al-Ziyarah district villages, in the northern part of al-Ghab Plain.
To cultivate wheat crop, farmers used primitive methods to reduce costs and avoid being exposed and targeted by regime forces. Consequently, this led to slow growth of crops compared to previous seasons and caused a decrease in wheat production in the region, according to the same agricultural engineer.
Primitive Farming
According to Anas Tarboush, farmers in al-Ghab Plain tried to cut short tillage operations conducted in summer farming which relied before on "plowshare" machines to "smooth" and prepare lands before seeding. Farmers resorted to primitive farming to gain time and avoid being targeted by security barriers positioned in the area. Currently, they are using primitive methods to cultivate their land in order to reduce economic burdens as well as accelerate the cultivation process.
During the current season, farmers used insecticides for large farms, which negatively affected wheat production, according to Anas Tarboush.
Meantime, last June, they faced difficulties regarding the high wages of combined harvesters and machinery used to transport crops.
Despite investments.. wheat cultivation is still mediocre
The head of the local council in Zayzun region, Ahmed Naasan, told Enab Baladi, that wheat cultivation has declined drastically compared to previous years due to security conditions and high costs of farming, which was affected by fluctuations of the Syrian pound against the dollar, in addition to hikes in fuel prices.
Local councils in al-Ghab Plain launched agricultural projects to support farmers, such as distributing agricultural baskets, fertilizers, pesticides, and seeds, according to Naasan. However, such support has stopped due to the unstable situation in the region.
An agricultural plan
The Presidency of the Council of Ministers in the government of the Syrian regime has recently announced an agricultural plan to invest in Syrian regions while focusing on al-Ghab Plain area in Hama countryside for the next stage. The plan aims "to confront the economic sanctions imposed on the Syrian regime and enhance self-reliance", according to the aforementioned presidency.
Prime Minister, Imad Khamis, who headed the regime's government delegation to meet with the agricultural institutions in al-Ghab Plain, on June 5, assigned the Director of Hama Agriculture along with other two directors in four governorates to start investing arable lands of ministries and public institutions. He also asked them to set a plan and implement it within the adequate framework in the short, medium and long run.
He asked the Ministry of Agriculture to coordinate with other ministries to lay out a plan to invest all arable lands within their holdings and invest in agricultural lands of public institutions.
However, this plan may not be beneficial for local farmers, amid fears of being busted by regime forces, especially that a large portion of them still displaced.
Until 22 of last May, published data by "Syria Response Coordinators" team have indicated that only 26.63 percent of the total number of IDPs, which exceeded one million, have returned to Hama countryside from Idlib and its rural areas. Meantime, return destinations were limited to Idlib countryside and the western countryside of Aleppo.
if you think the article contain wrong information or you have additional details Send Correction