Syrian North Lose Agricultural Reservoirs Due to Hostilities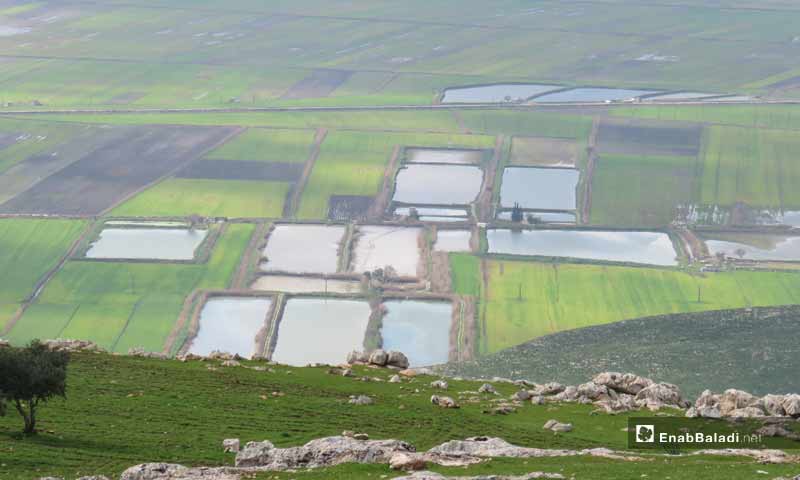 Enab Baladi – Hama Countryside 
40 acres planted with wheat at a cost of two million Syrian pounds, and two cows, were all that Muhannad al-Masri, a farmer of al-Ghab Plain in rural Hama, owned. He lost his land once Assad forces took control of the area, and he was forced to sell the two cows at half price after being displaced.
This was not the case for al-Masri alone, but hundreds of other farmers in the area who depend mainly on agriculture and livestock. Since April 26, intensive fighting and air raids in the villages of Hama and Idlib resulted in heavy losses in the agricultural and animal sectors. Airstrikes led to fires in several villages, including those in of Jabal Shahshabo in the Idlib countryside.
Agricultural engineer Anas Abu Tarboush told Enab Baladi that the area suffered large losses in the agricultural sector, as the fighting forced farmers to leave their lands, causing them to suffer severe loss of livelihood. These battles, he claimed, will be reflected on Syrian communities in the north as well, as it threatens a crisis in supplying them with flour at a later time.
What is the Estimated Damage?
The area of cultivated lands in the northern Hama countryside, in the areas of Kafr Zita and Al-Latamina, is estimated at 40,000 acres, growing primarily potatoes. This area covers the needs of the north, according to the engineer, which also threatens of increases in the prices of vegetables that have already begun to rise, due to the lack of vegetables being sold.
Rural areas in Idlib and Hama are famous for growing wheat, barley, cumin, coriander and clover, as well as cows, sheep and rare buffalos in al-Ghab Plain. Areas such as Qalaat al-Madiq and Al-Hwaiz are also famous for their fisheries, which used to supply Syria with catfish, carp, tilapia and grass carp.
​Al-Ghab Plain is characterized by growing strategic crops such as wheat, occupying second place in its production in Syria. The cultivated areas are estimated at 150,000 acres of soft and hard wheat, which is almost completely planted, producing 500 kg per acre, according to Abu Tarboush.
With regard to the fish resources in al-Ghab Plain, which is a strategic reservoir to cover the needs of fish in the north of Syria, Abu Tarboush said the losses amounted to hundreds of thousands of tons as a result of regime bombing and takeovers, as he put it.
The head of the local council of the village of Bab al-Taqa, Abdul Karim Darwish, estimated losses at around $1 million US, especially since the area of fisheries reaches 15,000 acres.
On May 8, the Syrian regime took control of the village of Kafar Nabudah and the Qirata farms east of Jabal Shahshabo and the villages of Tal Hawash, Hamirat, al-Jabriya and Tal Othman. The latter is considered a strategic position overlooking many agricultural lands, plains and villages.
The regime followed by taking over the areas of Qalaat al-Madiq, al-Hwaiz and al-Hamra, which include large agricultural areas for the cultivation of wheat and peas, among others, not to mention lands of West of the Orontes such as villages of Qaber Fidda, al-Kareem and al-Sharia.
Although the opposition recovered Kafar Nabudah on May 22, farmers could not enter it amid intense aerial bombardment, while villages controlled by the Syrian regime, such as the Jisr Beit ar-Ras and al-Hawash, were still under direct bombardment by rebel rocket artillery.
if you think the article contain wrong information or you have additional details Send Correction