After Erdogan's threat… "Syrian National Army" launches military battle in eastern countryside of Aleppo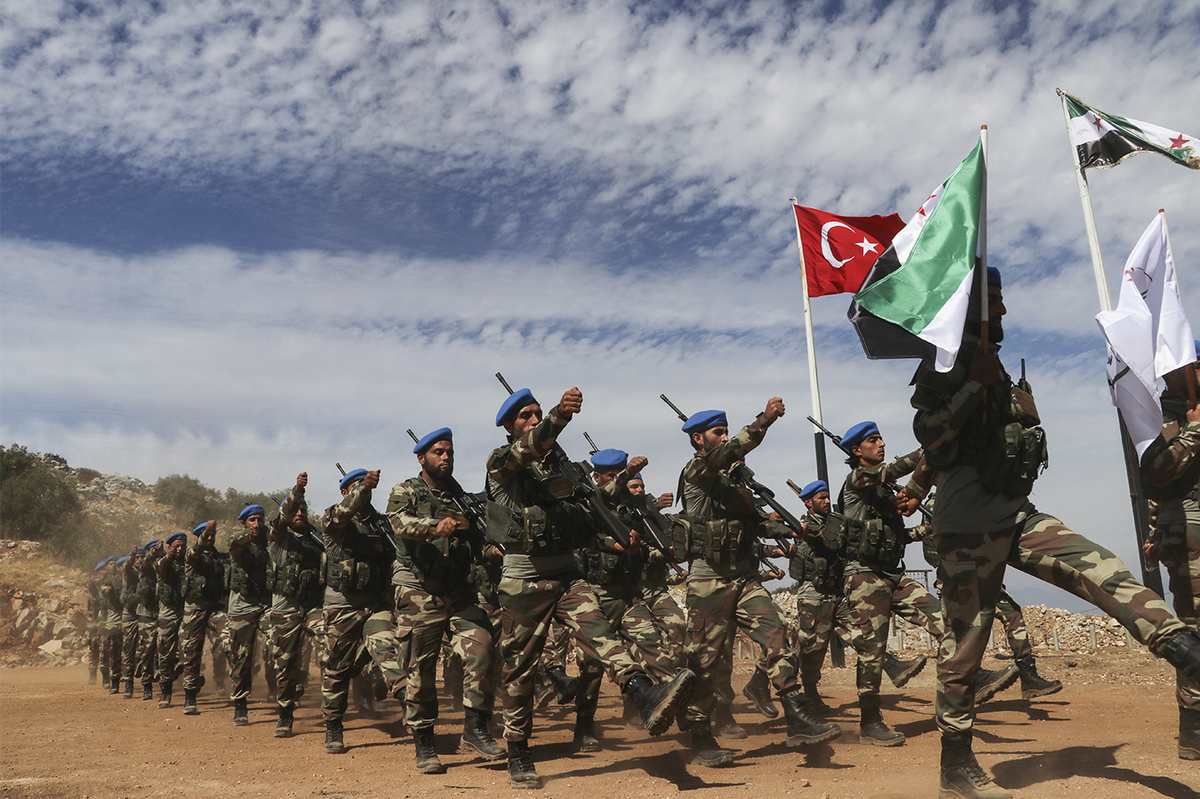 The Syrian National Army (SNA) has launched a military offensive in the eastern countryside of Aleppo against the Syrian regime forces hours after the Turkish President, Recep Tayyib Erdogan, threatened to start an army attack.
Enab Baladi's correspondent in rural Aleppo reported that clashes are taking place between the "Syrian National Army" and the Syrian regime forces in the fronts of al-Dighilbash and Abu al-Zendin in the al-Bab city in the eastern countryside of Aleppo on Saturday, 1 February.
The correspondent also pointed out that the National Army fighters seized a tank on the axis of Radar Shaaleh in the rural area of the al-Bab city.
This news comes hours after Erdogan warned of using "military force" again to stabilize the situation in Syria.
Erdogan, in his speech yesterday at an extended meeting with the heads of the branches of the Justice and Development Party (AK Parti) in the capital Ankara, said that Turkey wants Syria's stability and will not hesitate to do whatever it takes to achieve that including the use of military force.
Erdogan added the Syrian regime is still shedding blood in Syria, and Turkey has not and will not stand passive regarding the situation in Idlib or other areas in Syria.
Furthermore, supported by Turkey, the SNA is controlling vast areas in the northern and the eastern countryside of Aleppo
The SNA's military action in the countryside of Aleppo is a response to the military escalation carried out by the Syrian regime forces with the support of the Russian air force on the fronts of both eastern countryside of Idlib and the eastern countryside of Aleppo.
Over the past few days, the Syrian regime forces established control over cities, towns, and villages lying on the Damascus – Aleppo international highway such as Maarat al-Numan. At the same time, other battles are taking place on the axis of Saraqib city.
Meanwhile, the front-lines of the western countryside of Aleppo are experiencing intense battles due to the Syrian regime's attack on several areas located on the international highway.
However, the opposition factions have repelled the attack of the Syrian regime, causing significant losses in the ranks of the regime forces, the opposition factions announced.
Moreover, Erdogan accused Russia of not abiding by the Soshi agreement regarding Idlib as the battle in the eastern countryside of Aleppo shuffles the cards in the area and puts more pressure on Russia to sit at the negotiation table.
if you think the article contain wrong information or you have additional details Send Correction