HTS denies claims it is preventing military reinforcement from reaching Idlib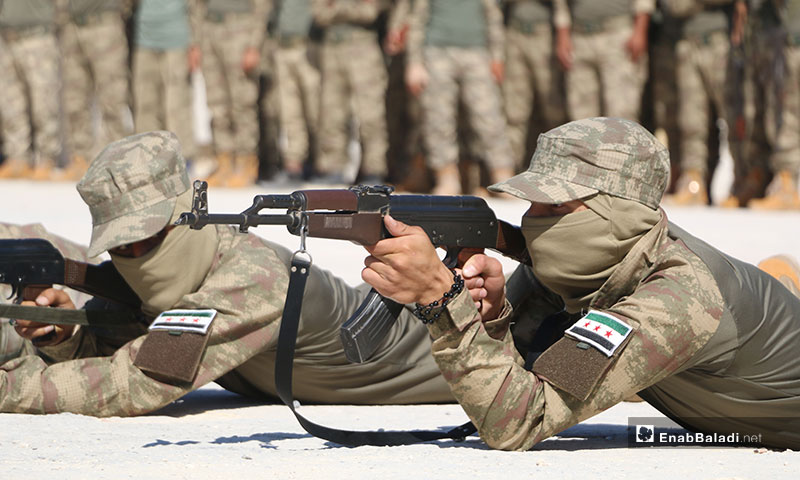 The Syrian National Army (SNA) of the Syrian interim government accused Hay'at Tahrir al-Sham (HTS) of preventing the arrival of the military reinforcement in the city of Maarat al-Numan in Idlib countryside to counter the Syrian regime's advances. HTS denied these claims.
"The three Syrian National Army (SNA) Corps are ready with their heavy and medium weapons to enter the battle, but HTS is blocking the transit of the troops," said the Deputy Minister of Defense in the Syrian interim government, Adnan al-Ahmad.
Al-Ahmad added, during a rally held in front of the Syrian interim government's building in al-Rai in rural Aleppo on Tuesday, 24 December, that the SNA had negotiated with the HTS for three days. However, the HTS allowed only the Lions of the East Army, Ahrar al-Sharqiya, and the Levant Front to enter Idlib.
For his part, the spokesman of the HTS's military wing, Abu Khaled al-Shami denied the SNA's allegations.
According to the Ebaa news agency, a media outlet linked to the HTS, al-Shami pointed out that "the HTS did not prevent anyone from entering Idlib in order to fight the criminal regime supported by the Russian occupation, but the HTS stipulated that the destination of the forces should be directly to the battlefield."
Al-Shami added that the fronts of the regime forces extend on the axes of the SNA in the countryside of Aleppo, "so what is all this nonsense about entering Idlib?! let them open the fronts that are closest to them towards Idlib from the side of the al-Bab city and others."
Simultaneously, the HTS and the National Front for Liberation (NFL), which is affiliated with the SNA, triggered a general alarm in Idlib to deter the military campaign carried out by the Syrian regime in the region.
Military escalation took place in Idlib during the last week through the ground advance of the regime forces and their control over 31 points between towns and villages in the eastern and southern countryside of Idlib.
if you think the article contain wrong information or you have additional details Send Correction