Sara Khayat… Paints what women cannot say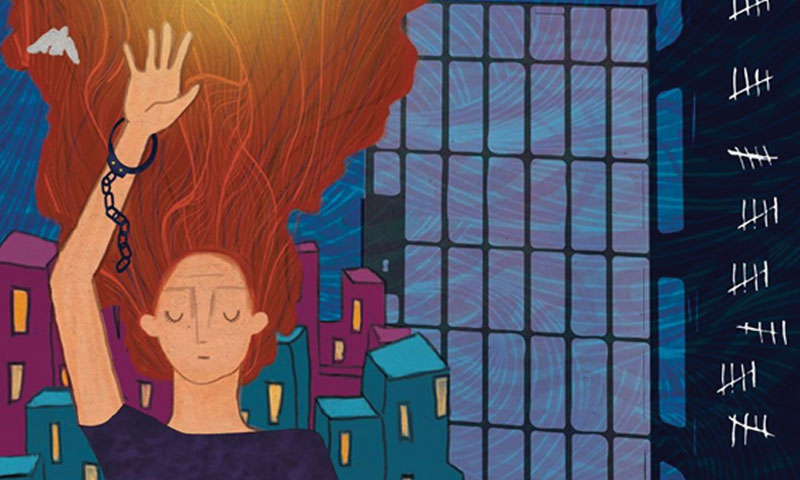 In reflecting on how she feels about her works that is mostly centered around a character of a girl to depict the violations that face Syrian women at home and abroad,  and to reflect their reaction to several issues such as violence, sexual harassment, and the relation between women who survived detention and their social environment, Sara said: "When a girl sees my painting and says this is me, it means a lot to me"
Sara, the 30-year old painter, did not need to pick a name for the character she created in her drawings nor an introduction. Like Handala, the refugee child character of Palestinian cartoonist Naji al-Ali, the redhead girl is Sara herself with the accumulation of experiences she lived. "When I paint sexual harassment I paint myself. When I paint about violence, I paint myself. When I paint anything it feels like it is me or someone I know is in the painting".
Sarah graduated from Visual Communication department in Damascus University's Faculty of Fine Arts in 2014. A year later she moved to Turkey. She told Enab Baladi she could not stay in Syria, "after everything was over, especially the peaceful revolution."
She pointed out that she was one of those who went out to the streets of Damascus to protest. After leaving Syria she felt sorrow "for not achieving any changes", so she started working on infographics that can reflect the suffering of Syrian women and advocate on their behalf.
Sarah participates in designing visual material for books and studies published by certain Syrian organisations and blogs that document violations against Syrian women.
She also paints expressive paintings for the "Survivors, or not yet" campaign that was launched by the Ayni Aynak platform to strengthen the role of women in Syrian society in 2018.
The campaign is based on oral histories, in which anecdotes, oral testimonies and information of individuals' past are curated in voice recordings. The main aim is to document memories of women who survived detention in Syria, and their suffering from society's rejection after detention which prevents them from moving on. The campaign's material is enriched by paintings by Sara.
Sara also designed the cover of a report titled, "So I'm not kept in the shadows", published by The Day After Organization (TDA) supporting democratic transition in Syria. The idea of the book is based on documenting narratives of eleven female survivors of detention. These narratives were selected based on the wide spectrum of abuses during and after detention which intersect with political violence and forms of domestic, community, and/or legal violence experienced by several survivors. The narratives also reflect the diversity of survivors' socio-economic backgrounds, education level, political views and age groups.
The idea as a response to the Syrian regime's monopoly of oral history and its instrumentalization as a socio-political tool to legitimize its war crimes and crimes against humanity since the beginning of the protests in March 2011.
Sara believes that she lives in an emotional society, where visual cues play an important role in drawing the attention of the audience to such issues. The viewer will not have to read a whole page on violence against women, because it is all there in the painting, according to Sara.
The importance of Sara's work comes from the fact that it translates difficult research into simple visual narratives to help people to understand it. It increases research's impact and encourages more people to talk about the suffering of women who experience violence.
According to a research conducted by TDA, most participating women publicly acknowledge that they know a woman who was abused by a member of her family. Men, on the other hand, tend to deny their knowledge of such cases.
Around 67.5% of females want to legally hold the aggressor accountable in all cases, but they tend to be lenient with cases of verbal threat and abuse. The percentage of males who support such accountability is around %54.3.
Sara's various works were featured at the Visual Arts Exhibition that was a part of the first Global Refugee Forum in Geneva, on 17 and 18 December.
In reflecting on how she feels about her works, Sara borrows a verse from Syrian poet Riyad al-Saleh al-Hussein, "simple as water, clear as a gunshot."  In her work, she tries to avoid over-complicating issues that bring all women together, disregarding their ethnicity, religions and social status.
That simplicity is also a familiar motif from her "first revolution". "Whatever happens to me is because of the revolution, the revolution is me and you, and wherever you are you can make a revolution," she says.
if you think the article contain wrong information or you have additional details Send Correction