Olive harvest workers risk their lives to make a living in Idlib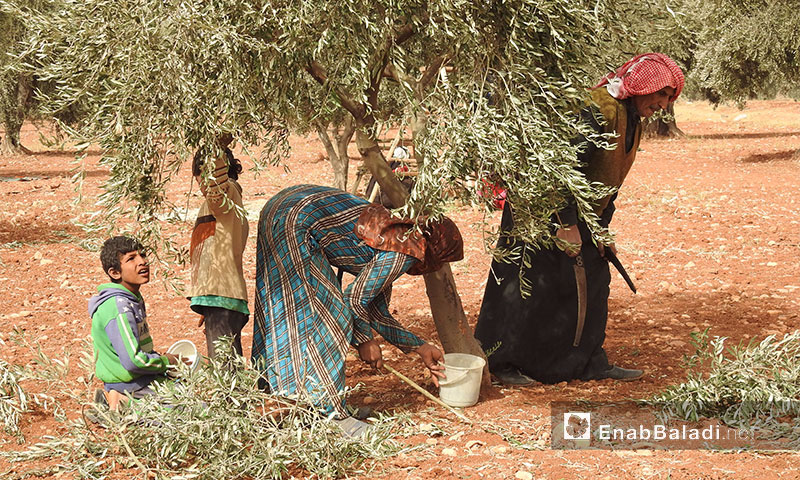 In northern Syria, young people have very few options to earn a living. South of Maraat al-Numan, several people interviewed by Enab Baladi about their difficult circumstances augmented with lack of job opportunities. To earn a living, they have to go to the olive groves between the villages of Tahtaya and al-Tamanah–areas that witness regular clashes between the Syrian regime and opposition factions–to harvest olives despite continuous shelling from the regime.
In an interview with Enab Baladi, Hazim Tomeh, displaced from Eastern Ghouta, said that "on Thursday, 14 November, we could not continue our work after 10 am because we were targeted by the regime forces with three shells. Yesterday we were also monitored by a reconnaissance aircraft and then we were hit with 20 mortar shells. As a result, we lost all the olives we harvested and returned home empty handed."
In recent days, a number of civilians were killed and injured while they were harvesting olives. In Maraat Harma, five people were killed including two children and a member from the civil defense, while five others, including the children's mother, were injured.
Risky business, little rewards
An olive collector is paid between 1,200 and 1,300 Syrian pounds (SYP – around 2 USD) for each olive sack. The amount is quite small in comparison to the high cost of living in opposition-controlled areas and the high inflation. For example, renting a house in Idlib costs at minimum 25,000 SYP (approximately 35 USD).
However, in areas subject to aerial bombardment or artillery, the wage for harvesting one sack of olives reaches roughly 2,500 SYP (around 4 USD) which is double the wage in safer areas.
Tomeh said, "we risk our lives for our wages and to meet our families' needs. We do not know if we are going to return home alive or not. There are no civil defense members, hospitals, or ambulances that can reach us in that area to save our lives." Tomeh added, "even our supervisor is not responsible for making a compensation, a condition put ahead before starting work."
Since mid-October the regime forces and Russian warplanes have resumed shelling in southern countryside of Idlib. Harvest workers cannot reach certain areas including al-Naqeer, Rqaya, Kafr Sajna, Maarat Zeita, Maarat Mater, Jabala, Termla and Maarat Harma because they are too risky.
Moreover, the harvest workers have to coordinate with opposition fighters in the area so that they are not shot and killed by mistake.
Distributing the harvest
The daily amount of olives collected by the workers is equally divided between the supervisors of the olive harvesting group and landowners.
The head of Maarat Harma's local council, Dia Haj Ahmad, indicated that there are no accurate statistics on the olive groves damaged by the recent battles. But the town of Maarat Harma has about 2,500 dunams (2,5 sq km) of olive trees, which were expected to produce about 275 tons of olive oil. Nonetheless, the continuous shelling caused damage to "a large number of trees" and hindered the return of the farmers to collect the harvest.
if you think the article contain wrong information or you have additional details Send Correction