Hindered Fate Of Foreign ISIS Fighters' Children In Syria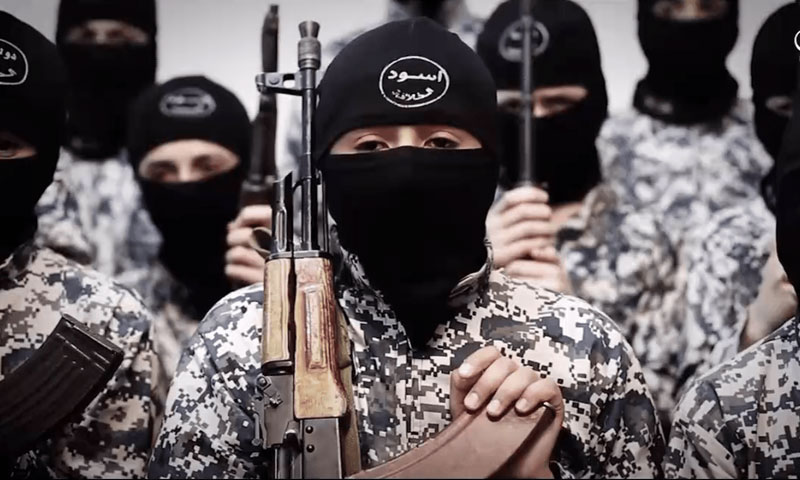 A thorny reality and unknown future surround the children of foreign ISIS fighters in Syria. After the defeat of ISIS, thousands of these children have become living in camps that lack much-needed health and social care, and they often do not have identity papers, identity cards or nationalities, because of the refusal of their parents' countries to recognize or repatriate them and the inability of the camp administration to any documents for them.
Rejection and hesitation are faced with very few initiatives by some foreign governments to repatriate their nationals from ISIS fighters, who hold their nationalities, and their families, or only to receive their children. The file of the repatriation of these children opens a wide controversy among many governments that render their rejection to security concerns.
In light of this abandonment, hundreds of children are dying in the camps they are held in. According to a UN report released on September 11 on the conditions of al-Hawl camp in al-Hasakah countryside in northeastern Syria, at least 390 children died in the camp due to malnutrition or lack of necessary health care.
The population of al-Hawl camp is estimated at 70,000 people, most of whom are displaced people and families of ISIS, including about 3,500 children who do not have birth documents. Women and children represent 92 percent of the camp's population.
So far, only a few countries have repatriated some of their ISIS nationals and their children, including Uzbekistan, Kazakhstan, the USA, Russia, Belgium, France and the Netherlands.
What future is awaiting these children? What are the required procedures to get them out of the camps and repatriate them to their countries of origin? What are the repercussions of their separation from their mothers?
Orphaned children and humanitarian cases
Kamal Akef, a spokesperson for the Foreign Relations Department in the Kurdish Autonomous Administration of North and East Syria (Rojava), which administers al-Hawl camp, noted that most of the children who have been handed over to their countries are under the age of 10, have special humanitarian cases, and most of them are orphaned children.
Answering Enab Baladi's questions via the internet, Akef explained that in al-Hawl camp, there are currently 12,000 foreign women and children, 8,000 children and 4,000 women, from more than 50 countries all over the world.
He clarified that the number of children and women who have so far been repatriated to their countries does not exceed 500, meaning that they constitute only 2 percent of the total number of those residing in Rojava.
Governments should communicate with Rojava and fill out official forms
Regarding the adopted procedures for the repatriation of children from the camp, Akef stressed that Rojava seeks to communicate through the governments of countries that want to officially receive children, noting that the handover process is only carried out through the signing of an official "foreigners' document."
Akef added that, based on these governments' communication with the Foreign Relations Department of Rojava, coordination is carried out on the repatriation of certain cases having humanitarian situations, including women who have not been involved in the hostilities and against whom no legal action has been taken or no evidence proving their conviction is found, in addition to parentless children under the age of 10.
Akef explained that Rojava believes that it is its duty to work to hand over those suffering from these humanitarian cases to their governments, in order to rehabilitate them and rid them of the mentality of extremism on which they grew up in ISIS's areas, in addition to Rojava's desire to integrate these children with their communities, and turn them into active people.
Akef confirmed that several countries are currently in contact with Rojava in order to help and restore some children from the camp, refusing to give names of these countries.
States are behaving in a "harmful" and "illegal" manner
Regarding the way with which countries are dealing with this issue, its consequences on children and the extent of its legality, the head of Justice for Life (JFL) organization, human rights activist Jalal al-Hamad, said that various countries are trying to evade dealing realistically with the problem of children of ISIS members holding their nationalities. Therefore, these countries are taking illegal and directly harmful steps regarding these children.
In an interview with Enab Baladi, al-Hamad said these steps include depriving ISIS fighters of their citizenship; hence, affecting their children directly. In addition, some countries refused to receive the children of ISIS members or their families in general, which means these children will have to stay inside al-Hawl camp or other camps where they are living, whether in Syria or Iraq. These areas are considered unsafe and will put their lives at risk in one way or another, for they are subjected to verbal violence there which further enhances the extremist ideology, upon which they were raised.
The Need for a realistic approach
The head of Justice for Life (JFL) Organization, human rights activist Jalal al-Hamad, explained that keeping these children inside the camps and countries evading the responsibility of receiving and holding their citizens accountable, or depriving them of their citizenship will greatly affect them and turn them into a real threat in the future.
Al-Hamad pointed out that there must be a realistic approach to dealing with this complex file respecting international law on the one hand and the privacy and rights of children on the other.
A child may not be separated from his or her parents, especially the mother during early childhood. Children are in need of care, attention, and follow-up. So, if the states agreed to receive children without their mothers, they will be greatly affected.
However, while adopting the rights of children and humane treatment with children, it is very important to keep them away from the place where they witnessed violence and extremism in these cases, and put them in safe spaces allowing them to grow up naturally.
Al-Hamad explained that in many cases the mothers of these children belonging to ISIS are accused of committing, or inciting and participating in crimes. Therefore, they must be punished according to the laws of their home countries. These are new situations in which children, as a result of law enforcement, may find themselves subjected to injustice. He pointed out that this confirms the need for a realistic and humane approach that preserves the rights of these children, and ensures the punishment of perpetrators at the same time.
The head of Justice for Life (JFL) Organization, stressed the need to provide these children, as well as their mothers, with psychological support and dialogue, in an attempt to contain the large amount of violence they have grown up to while in war zones. Such a situation requires first getting them out of the camps fueling their extremism and violence once they grow up there and then looking for new humanitarian approaches to dealing with them.
Disgrace and double rejection 
The United Nations Children's Fund (UNICEF) has classified the children of foreign fighters in Syria as among the most vulnerable categories of children in the world.
"They live in appalling conditions and threats to their health, security and well-being, and have little family support. Many of them are completely alone, although most have been stranded with their mothers or caregivers," UNICEF Executive Director Henrietta Fore said in a statement.
The organization warned against double rejection and significant challenges facing these children as "they are often disgraced by their communities, abandoned by the governments of their home countries, and facing enormous legal, logistical and political challenges acquiring basic services or returning to their countries of origin."
The organization called for treating these children primarily as victims, not as culprits, and taking into account the interests of every child before making any decision, including repatriation, and that the decision shall comply with international legal standards.

if you think the article contain wrong information or you have additional details Send Correction