Five Blood Banks Meet The Needs Of Aleppo Countryside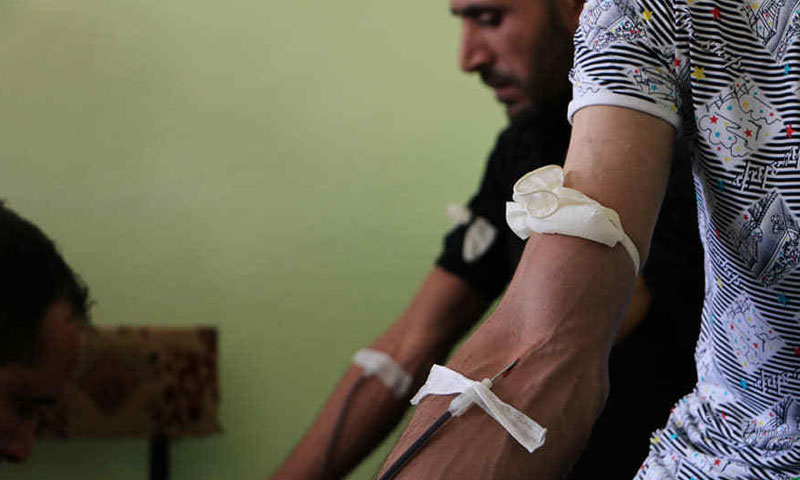 Five blood banks are distributed throughout the countryside of Aleppo, covering the needs of local medical facilities and filling emergency shortages in neighboring areas, to complement services that hospitals fail to meet.
Ahmed Eid, director of the IDA blood bank in Azaz, northern countryside of Aleppo, told Enab Baladi that the presence of blood banks is a basic necessity for all hospitals, in addition to being the destination of those who need whole blood or its derivatives, such as condensed blood cells, plasma, and platelets.
Eid added that the services provided by blood banks spare the patient lots of painful tasks. These services include looking for suitable donors who have compatible blood groups when the patient needs a large number of units, providing blood products and conducting tests that require special conditions and devices, which are not available in ordinary hospitals.  He pointed out that blood banks store blood and its derivatives and provide it to patients in need around the clock.
 Afrin catching up with its neighbors
In early September, the International Foundation for Social Development (SDI) opened a private blood bank for the first time in Afrin, in the northern countryside of Aleppo, in addition to banks in Azaz, al-Atareb, Marea and al-Bab.
The medical coordinator in the institution, Bilal Mohammed, indicated that the aim behind establishing the blood bank was to fill the shortage of blood in the region, as the nearest blood bank is 30 kilometers away in Azaz, while the task of storing blood is undertaken exclusively by Shifa hospital, in the city, which already suffers a shortage of equipment and tests.
The new blood bank operates using modern equipment and can perform basic tests of viruses such as hepatitis B, hepatitis C and AIDS, as well as syphilis, which is not performed by all blood banks.
According to Mohammed, the newly established blood bank is currently providing whole blood only. However, the blood bank team is working to develop existing services, in order to be able to provide blood derivatives. He added that the blood bank is aiming to launch a special campaign to encourage blood donations enough to supply all hospitals and health facilities in the region.
Periodic campaigns and permanent services
Blood banks are launching campaigns in order to raise people's awareness about the importance of donating blood and the need to fill the bank's reserves in order to meet the needs of patients and the wounded.
Eid stated that people usually respond positively to the campaigns and donate important quantities of blood. Yet, once the bank attains aspired amounts of blood and its derivatives,  calls for donations decrease. He added that the turnout of people to donate in normal cases is low and it increases when violent events occur in the area.
Eid highlighted that blood banks equally secure the needs of neighboring areas when they suffer from shortages, by conducting intensive donation campaigns. He noted that the blood banks in Azaz and al-Atareb sent quantities of blood to Maarat al-Numan and Idlib during the past months, when these areas were hit by a military attack, which led to the death of 1300 civilians in addition to thousands of casualties, according to the Response Coordinators team.
if you think the article contain wrong information or you have additional details Send Correction