"Mares 4" Holds Training On Radio Broadcasting In Cooperation With Radio Rozana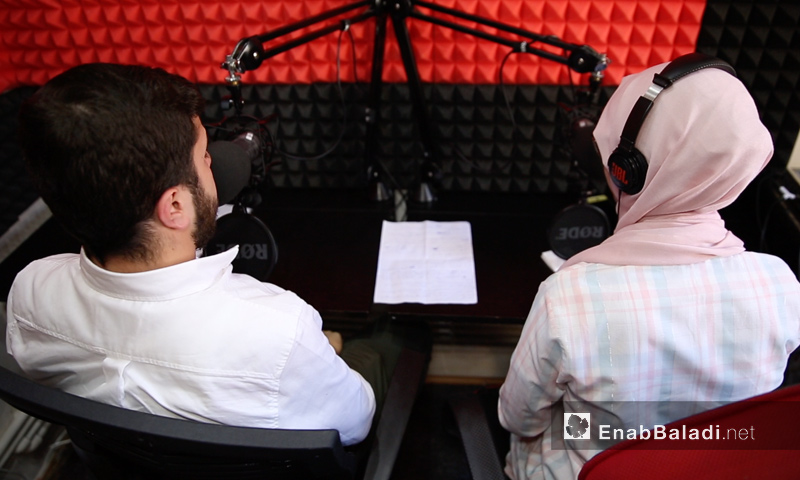 The trainees, under the Mares/Practice 4 program, have attended extensive training sessions on presenting radio-based programs, within a workshop offered by the Director of Radio Rozana, Lina al-Shawaf, at Enab Baladi newspaper's office in Istanbul city.
The workshop, held on the 9th  and 10th  of August, included practical training seeking to develop vocal performance and a theoretical and applied explanation of writing methods designated for radio programs.
The workshop started with an introduction to the nature of radio work and the specifics of its audience, in addition to the difference between the materials provided by a newspaper and others that television provides, pointing out the features that distinguish radio in comparison with both mediums.
The trainees have written a radio-based text, a script, and trained on delivering it, as to overcome the fear of speaking through a microphone.
In addition to scriptwriting, the workshop consisted of practices, the aim of which is developing vocal performance and achieving a proper pronunciation.
The trainer has also provided the trainees with tips that help better the voice of the speakers before the recording process.
The "Mares 4" journalistic training program is to end late in August, where the trainees have already passed the part of the course designated for learning journalistic writing. This week, they have started practicing on writing features and video-based stories.
The training courses provided by "Mares 4" are attended by nine female and male trainees, yet students or fresh graduates of journalism and Arabic faculties.
"Mares" is a journalistic training program, where participants are granted an opportunity to have a practical training by practicing in the newsroom and media production departments of Enab Baladi Organization, as to qualify them to enter the media market.
At the end of the program, Enab Baladi grants the trainees who pass the final tests an accomplishment certificate; they will also be offered a period of three months of follow up and supervision, through which feature stories and journalistic investigations are to be produced to be published on "Mares'" platform, allocated especially for publishing the trainees' articles. Enab Baladi will also offer them recommendation letters and will nominate them for positions at media outlets.
Enab Baladi has launched the "Mares" training program in 2018 and 25 female trainees have graduated its first, second and third rounds, with the skills needed to find their way in the media market and capabilities that help them produce news, reports, features and video stories.
if you think the article contain wrong information or you have additional details Send Correction