Four Vital Services From Turkey To Al-Bab City In Aleppo Countryside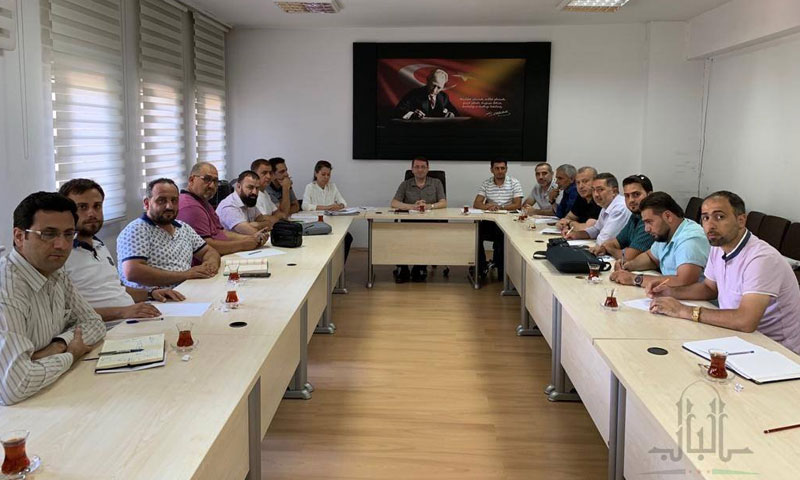 Meetings bringing the Turkish states and the local councils in the countryside of Aleppo together continue, aiming at providing vital services and launching investment projects in the area, which Turkey backs militarily and economically, as well as in terms of services. 
The last meeting was held on July 27, 2019; the local councils' heads and representatives of the al-Bab, B'zaah and Qabasin cities in the countryside of Aleppo organized a joint meeting with Turkish officials headed by the Assistant Governor of Gaziantep city  Şenol Esmer, in the presence of representatives of electricity, water, internet and camera companies to discuss the current situations and the latest service developments in the area.
As mentioned by the local council of the city of al-Bab on its Facebook page, the outcome of the meeting was an agreement to provide al-Bab city with four vital services; electricity, included, is to be supplied in the next a few the next weeks. Both sides agreed to extend and equip the electric grid between al-Bab city and Turkey.   
According to the council, the extension of the electrical networks will take 40 days in case the installation of power transformers within the city starts at the end of next September.
This comes after the local councils of al-Bab and B'zaah filed a request to Turkey's Energy Regulation Authority, asking to provide the areas of Aleppo countryside with electricity and distribute it through the power line to be extended between Syria and Turkey by the "AK" energy company. 
The second vital service agreed on is the water project. The water project is divided into two stages: the first involves the restoration and maintenance of the mountainous water tank, in addition to the rehabilitation and maintenance of the water network's infrastructure implemented by Ihsan organization.
The second stage, however, includes the drilling and preparation of well-water lines, which will start from next month, installing the water pumps and providing all the necessary materials needed for the project, which the Turkish state is to carry out.  
The third and fourth services are providing the city with internet and installing surveillance cameras, for the poles and cameras' locations are already chosen, planned to cover the main streets of the entire city. According to the council, these services will become operational in October 2019.
The cameras will help to track down those responsible for the bombings hitting the city every now and then, for the last incident, where a motorcycle bomb exploded on July 27, has left eight persons wounded. 
if you think the article contain wrong information or you have additional details Send Correction