To Abate Explosions: Security Cameras On Streets of Northern Aleppo Countryside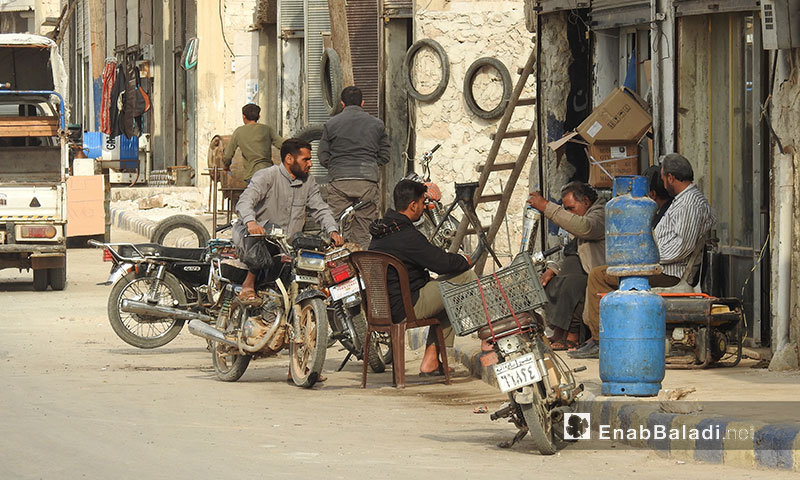 Backed by Turkey, the local councils of northern Aleppo are preparing to implement a security camera installation project in the next months, aimed at consolidating security and reducing thefts and explosions.
The project has been discussed for months on many meetings between the directors of local councils and the Turkish delegates visiting Aleppo countryside.
The last meeting was held on July 27, 2019, between the local councils' directors and representatives of the al-Bab, B'zaah and Qabasin cities in the countryside of Aleppo and Turkish officials headed by the Assistant Governor of Gaziantep city  Şenol Esmer, in the presence of representatives of electricity, water, internet and camera companies.
On its Facebook page, al-Bab City Local Council posted that the meeting resulted in determining the locations where poles and cameras will be installed, as to cover the city's main streets.
Concerning the project's starting date, Enab Baladi contacted Jamal Otham, director of the al-Bab  City Local Council, who said that the project has already kicked off, for the posts, where poles and cameras are to be fixed,  are being prepared, adding that there are eleven key posts.
At each post, a fixed camera and another capable of moving will be installed. Being quite developed, the cameras can identify faces, vehicles and their owners through the license plate number. The posts, however, will be linked through an underground network and connected to the Observation and Monitoring Center.
Othman stressed that it is the al-Bab City Local Councils which is to pay the expenses of setting up and equipping the internal network. The cameras, however, will be provided by Turkey. The project is to take three months, he added, pointing out that the surveillance and tracking systems will operate in the city next October. 
Would security cameras minimize explosions?
The installation of cameras comes as a response to the repeated car and motorcycle bombings the cities of northern Aleppo countryside have been suffering in the past months, hitting popular markets, not to mention the assassinations of military figures in the area by unknown persons. 
The last of these explosions occurred on Saturday, July 27, when four  motorcycle bombs went off simultaneously in the cities of A'zaz and al-Bab, and the towns of  al-Ghandoura and Tall Battal  in the northern countryside of Aleppo,  taking a toll on two civilians, one of whom was not identified,  and injuring eight civilians in al-Bab city,  six civilians in Azaz, five civilians in al-Ghandoura and five others in Tall Battal. 
The security camera installation project is expected to abate these explosions by monitoring the movements of the perpetrators. Further,  Othman stressed that the project is part of the plans that the council seeks to conduct with the civilian police, as to achieve security and reduce explosions and thefts.
if you think the article contain wrong information or you have additional details Send Correction