Project to Support Agricultural Production in Northern Al-Roj Valley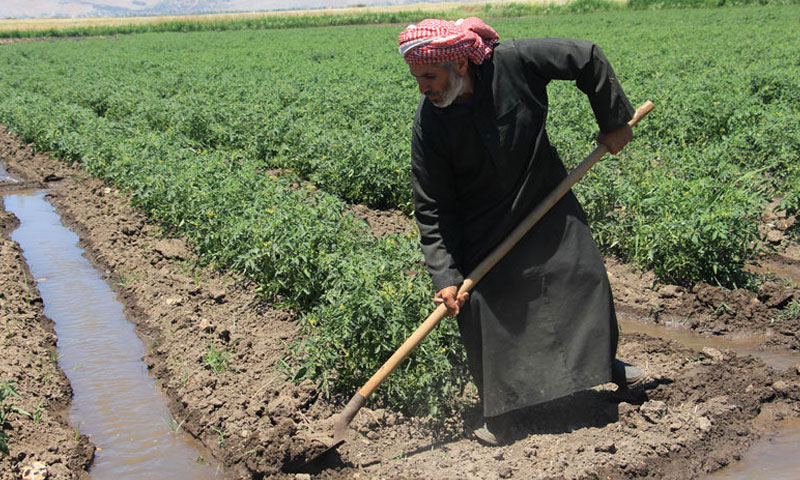 Idlib – A project was launched in April to increase agricultural production, protect productive assets, and restore and establish income-generating activities for affected families in the northern al-Roj valley in the western part of Idlib governorate.
The project which is supposed to continue until mid-August 2019, was launched by Hand In Hand For Aid and Development (HIHFAD) in collaboration with the German organization Welthungerhilfe which provides support to development projects in order to provide food security around the world, and supported by the German Ministry of Foreign Affairs.
According to what HIHFAD told Enab Baladi, it is using this project to assess the region's needs by conducting interviews with farmers and local councils, agricultural technicians, and those concerned with agriculture in general.
After the most important crops and agricultural issues and challenges facing farmers were identified, the northern al-Roj valley was chosen for the project, as it is the most important source of food for Idlib.
The project is part of a program aiming to partially support farmers through the challenges that they face and help them overcome difficulties. It is set to span the life cycle of summer crops such as vegetables.
According to HIHFAD, the project aims to encourage farmers to continue working in agriculture, and to hold on to their land as their main source of income for their livelihood and that of their families.
The project also involves other means of supporting farmers, such as the provision of agricultural inputs, and distribution of fuel vouchers for irrigation, as well as seed, fertilizers and pesticides to farmers cultivating summer vegetables. They could then use these vouchers at agricultural centers in the area across the lifecycle of their crops.
In addition to subsidizing vouchers, the project also provides training workshops for farmers that teach them how to prepare land for agriculture, farming and fertilization timelines, and means of addressing pests and diseases that may affect their crops.
Who Are the Beneficiaries?
According to HIHFAD, the mechanism for selecting beneficiaries depends on their access to land and irrigation water. Some of the criteria used include the number of family members and whether the farmer had received aid from non-governmental organizations in the last 6 months, in order to provide support to those most in need of it.
The number of direct beneficiaries will stand at 885 families. For more than a month, Idlib has suffered a military campaign that has led to the displacement of more than 300,000 people. This has worsened the food situation that 6,500,000 million Syrians are suffering from, according to United Nations statistics.
The sustainability of this agricultural project, according to HIHFAD, depends on the availability of necessary support. The organization also plans to support farmers in the area through different projects, including both development and relief projects to resuscitate the area. It aims at encouraging farmers to return and  hold on to their lands and cultivate them, in order to improve and diversify food sources in markets.
The Food and Agriculture Organization of the United Nations (FAO) estimates that agriculture accounted for 60% of Syria's GDP by the end of 2017, an 18% increase since the beginning of the conflict in Syria in 2011. It also estimates that 23% of the workforce in Syria was in agriculture in 2017, compared to 17% prior to 2011.
if you think the article contain wrong information or you have additional details Send Correction