Projects to support farmers in Idlib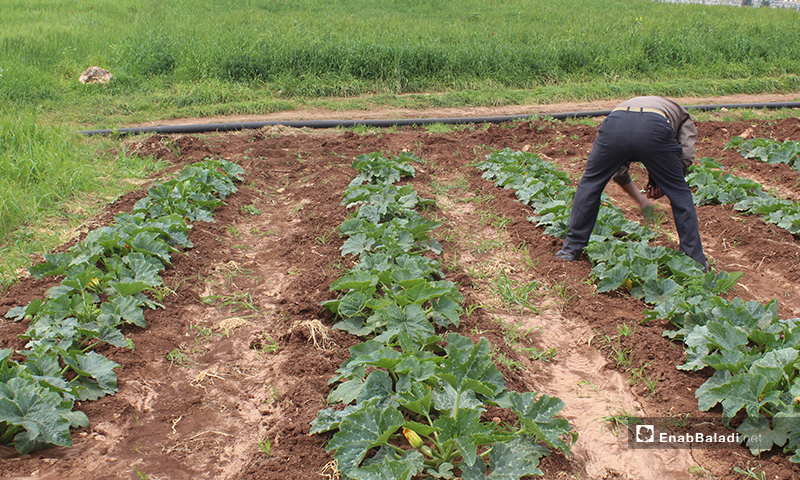 Enab Baladi- Idlib
Farmers in Idlib face "stark" conditions mostly due to high living costs, low incomes and the dim capabilities coupled with high levels of hunger and food insecurity throughout Syria. Consequently, humanitarian organizations launched projects to support the process of wheat production and bread distribution.   
At the beginning of the current year, farmer Ahmed Zakaria Dada, could not cultivate his lands in Zardana village in the northern countryside of Idlib, due to high costs of fertilizers, fuel and pesticides. In an interview with Enab Baladi, he said that the situation has changed after seeking support from a relief organization which provides assistance to farmers.
"Ataa", a non-profit organization provided fertilizers, herbicides and fungicides as well as fuel for irrigation to farmers, within the first phase of its project. The said project aims to assist six thousand families, equivalent to 30 thousand beneficiaries, based on what the agricultural projects coordinator, Safi al-Hayek, told Enab Baladi.
Increasing food security…starting by seeds
This project targeted residents of Hazano, Kafr Yahmul, Ram Hamdan and Killi villages in the northern countryside of Idlib. Al-Hayek added that the purpose is to increase food security and improve access to food both for host communities and the displaced ones.
The project also provided technical training for farmers on the best practices of wheat preservation either in storage or on how to deal with plants diseases. In addition to conducting field visits by specialized agricultural engineers to farmers' sites to provide support and advice directly.
Last June, which coincides with the start of the harvest season, the organization has helped farmers to harvest five dunums each (five thousand square meters), according to the project's coordinator.
Meantime, in al-Rouj Plain, located in the western countryside of Idlib, the "Kids Paradise Humanitarian Organization" has launched a similar project that lasted for a year; starting from June 2019 until last June. The project covered over 18 villages and towns in the region.
Farmer, Hussein Ahmed al-Ahmed received from the aforementioned organization two baskets, the first one contained "sifted and sterilized" wheat seeds, along with fertilizers and field mice poison. While the second one, included pesticides and fungicides, according to what he told Enab Baladi. Al-Ahmed added that farmers also benefited from follow ups by a specialized team which monitored the different stages of crop growth until being sold.
In an interview with Enab Baladi,  Shadi al-Youssef, the responsible for the logistical support in "Kids Paradise", said that the aim of the project is to support community resilience and generate income for a thousand farmers in northwestern Syria, while preserving the pure strains of wheat.
Till bread is baked
Farmers' support projects included purchasing a portion of crops and distribute flour after milling on displaced families and bakeries to distribute free bread.
"Ataa" has set a goal of purchasing one ton of wheat from each beneficiary, to collect 500 tons of flour and bran that would be distributed later on 500 displaced families and livestock breeders.
According to the agricultural project coordinator, Safi al-Hayek, "Ataa" organization allocated 400 tons of flour for two bakeries to bake about half a million bread bundles during August and September and distribute them on random camps in the region.
The "Kids Paradise" organization purchased 825 tons of soft and hard wheat from farmers. It also sifted and sterilized 125 tons and distributed them on farmers who benefited from the project.
The remaining portions of wheat were distributed in form of bread bundles on a daily basis on four thousand and 500 families living in camps of Ma'arrat Misrin and Ma'arat al-Nu'man, over a period of six months by both "Insan Charity" and "Kids Paradise" organizations.
These efforts mitigated some of the problems of the current wheat season. By the end of the harvest season last June, 90 percent of cultivated land with wheat and barley have been harvested according to the report of the United Nations Office for the Coordination of Humanitarian Affairs (OCHA) issued on 26 of the same month. Meantime, farmers' problems accumulated after 481 dunums of croplands (481 thousand square meters) were burned this season.
Iyad Abdel-Jawad, Enab Baladi's correspondent, contributed in the preparation of this article.  
if you think the article contain wrong information or you have additional details Send Correction