"Hope Makers" Center: Glimmer Almost Extinguished Due to High Costs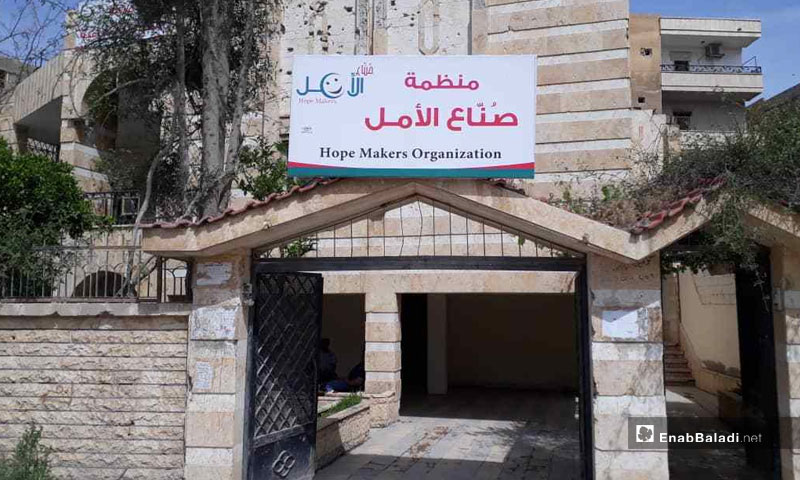 Enab Baladi – Raqqa
Work began at the Hope Makers center in the city of Raqqa nine months ago, and it was officially inaugurated on January 27, to be the first center for the installation of prostheses and the provision of physical therapy services in the north-east of Syria.
However, the lack of support and the rising costs of raw materials and equipment needed to manufacture prostheses and provide treatment, threatens the closure of the center, which is run by a group of volunteers who spared no expense of their own treating the wounded in their city.
Scary Figures, and Support in the Form of Lip Service
The center's activities began with a survey and documentation of cases of amputations and lost limbs, especially by those wounded in the conflict. "We have more than 1,300 cases of amputation in Raqqa alone," said Mahmoud al-Hadi, the director of human resources at the Hope Makers organization.
He estimated the number of amputees in IDP camps in the surrounding areas to exceed five thousand cases, while this sole treatment center in north-east Syria is not provided with any support.
Since its inauguration, the center has only provided 41 prosthetic limbs and conducted only 20 surgeries. "In many cases we documented, we were unable to provide anything because of our inadequate capacity. To date, we have still not received any form of support from anyone," al-Hadi said.
He went on to suggest that donor support programs did not go beyond lip service, commending the center for its work. Meanwhile, those in charge of the center encountered several cases of people who tried to commit suicide multiple times, as a result of their injuries that prevented them from continuing their lives.
"The only requirement is raw materials, silicon, carbon and joints," al-Hadi said. The physical therapy unit is currently out of service, due to a malfunction in the electric muscle stimulator (EMS) days ago. The cost of replacing the EMS is $40, which caused patients to return from the center without receiving treatment.
A Volunteering Initiative Threatened with Termination
The center's employees are the sons and daughters of the city of Raqqa. They are volunteers who do not seek gain beyond providing assistance to their wounded city, despite the fact that most of them have to either borrow money or stop volunteering for days on end in order to earn a living.
The physiotherapy center, which is temporarily suspended until a new EMS is procured, benefits more than 20 people a day. As for prostheses center, it can only treat an average of one patient every 20 days.
According to the human resources director at the center, Mahmoud al-Hadi, the organizers are looking forward to following up with beneficiaries of artificial limbs, as it offers psychological support and cause for celebration for children.
"We are preparing to provide vocational training and livelihood programs for families. As breadwinners can no longer carry out their previous work, we are currently training them professionally, rehabilitating them and providing them with means of living to achieve economic stability and a decent livelihood," al-Hadi explained.
The Center has repeatedly appealed to media outlets and humanitarian organizations to provide them with the support they need to continue their services, and to contribute to the healing of the people in their region.
"Currently, the center is threatened with closure due to the lack of means," al-Hadi said. Starting next week, working days will be reduced from six to three per week, and there is a possibility of reducing them to only two days per week.
The city of Raqqa suffered the worst of horrors during the Syrian conflict, since the "Islamic State" (IS) took control of the city and announced it as the capital of its caliphate from 2014 to 2017.
Many atrocities have been committed by the "Islamic State" organization, and by the Coalition forces which sought to eliminate it. The Coalition's intensified air campaign killed 1,600 civilians, according to figures by Amnesty International.
The rubble, mines and mass graves are scattered across Raqqa, and after more than a year since IS was routed out of the area, no comprehensive efforts have yet been made to help the city to recover.
if you think the article contain wrong information or you have additional details Send Correction