"Hope Makers" Organization Opens Physical Therapy Center in Raqqa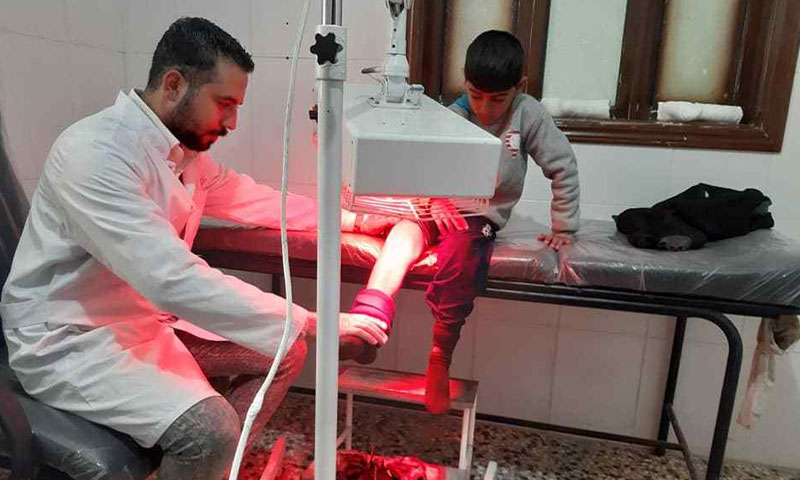 The humanitarian Suna'a al-Amal/Hope Makers organization has opened a physical therapy center that offers its services free of charge and covers areas in north-eastern Syria.
The center is the only to meet these needs in the area and supplements the efforts of the prosthetics implant center, which the same organization founded.
Dr. Firas Mamdouh al-Fahed, the president of the board of the "Hope Makers" humanitarian organization, told Enab Baladi that the center provides people with free therapeutic sessions, through advanced devices that specialized doctors supervise.
Thousands of Beneficiaries
He added that the center's services target dozens of thousands of people with paralysis, war victims, amputees included, and elderly that have difficulty at movement.
Al-Fahed stressed that the services of both centers are presented free of charge.
He also pointed out that the prosthetics implant center has so far implanted 40 prosthetics, in a short period, adding that the center's services are funded autonomously, while there is not any form of external aid or donations.
The Hope Makers' team has documented 4000 cases of amputation in the areas of north-eastern Syria, announcing that they alone would not be capable of offering support to all the affected people.
Al-Fahed explained that this social class has been treated unjustly by the "Islamic State" and then by the international community, which showed a little bit of attention, covering its affairs in media, but offering no actual funding.
Amputees Integration into Society
He pointed out that the "Hope Makers" organization is working to integrate this social segment into society as a whole, for it offers follow up of child amputees and founded them special schools, in agreement with other organizations, and it also managed to provide a number of amputees, who have been offered prosthetics, with job opportunities that helped them financially support their families again.
The "Hope Makers" organization is non-governmental, social and service-related, which started operating early in August in 2018. The organization, in the first place, targets people affected by war in north-eastern Syria.
The organization offers all the possible services to war-affected by people and children with disabilities.
The number of people wounded or those whose body parts have been amputated due to the war in Syria has amounted to three million persons, documented by a report published last year by the "World Health Organization" and the "Handicap International", showing that a million and half a million Syrian persons have permanent disabilities due to their injuries.
The city of Raqqa is among the areas that were affected the most by the mines, left by the "Islamic State" after its departure in November 2017, which resulted in hundreds of injuries and amputations.
if you think the article contain wrong information or you have additional details Send Correction