People with disabilities in Raqqa deprived of employment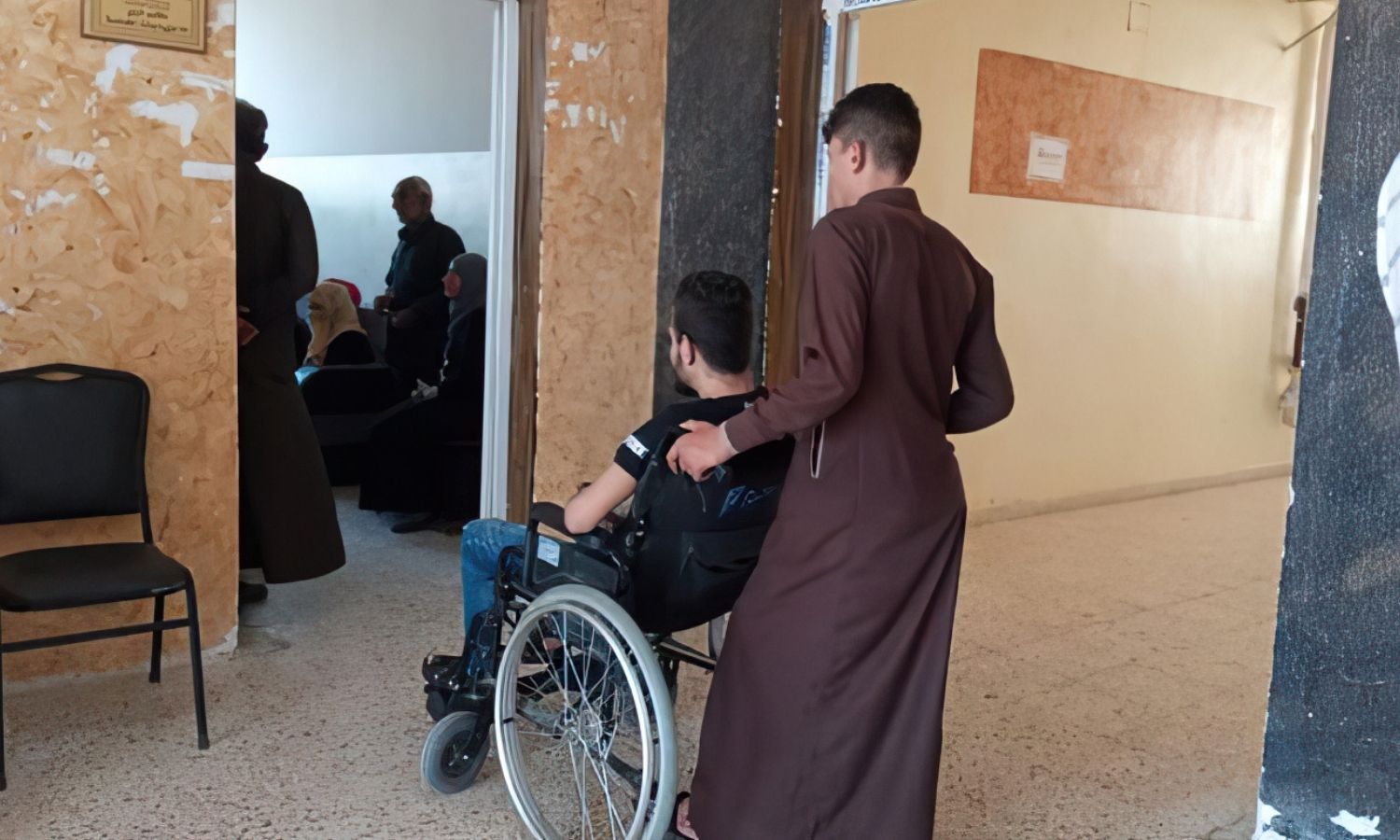 Raqqa – Hussam al-Omar
All attempts made by the 35-year-old Salih Abdo to find a job with the Autonomous Administration institutions, or even with the civil organizations operating in Raqqa city, have failed, despite having been to those departments several times.
Abdo is unable to walk on his feet because he had cerebral meningitis in his childhood, which caused him to lose the ability to walk and left him with hemiplegia.
Nevertheless, he was able to pursue his education and obtain an Industrial Secondary Certificate, in addition to graduating from several training courses in programming and computer services.
Although more than four years have passed since the establishment of the Raqqa Civil Council and the Autonomous Administration and the creation of more than 200 civil organizations in Raqqa, persons with disabilities continue to be denied employment.
Abdo told Enab Baladi that he had received many promises associated with access to a permanent office job in the Administration institutions and civil organizations. However, he says that, so far, those are just unfulfilled promises.
The young man presented a card to obtain a job in the Employment Office of the Raqqa Civil Council, which he said he had obtained at the beginning of 2019. Via this card, he obtained a serial number and a date in the hope that he would have a job to secure his livelihood through the office.
The number of people registered at the Office of People with Disabilities in Raqqa city exceeded 18,000, including about 8,000 people over the age of 18 who also registered with the Employment Office but were still unable to get a job.
Meanwhile, Abdulmajeed Alyan, 33, had to open a stand selling biscuits and cigarettes on al-Wadi Street in Raqqa city after he despaired of getting a job to provide for his wife and himself.
Alyan told Enab Baladi that he had been injured by a landmine that the Islamic State group left behind in Raqqa; this happened while he was returning to his home on al-Moataz Street, only to lose one of his feet as a result of the explosion.
Alyan indicated that he received professional training in men's sewing as part of one of the projects of a civil organization in Raqqa. However, he was unable to pursue this career or start his own business after graduating from the training course due to the high costs of opening a workshop.
Blocked law
Enab Baladi reached out to a member of the Employment Office of the Raqqa Civil Council who stated that the number of persons with disabilities registered for office jobs exceeded 8,000, including those with certificates and scientific and practical experience, and that there were 18,000 people registered at the Office of People with Disabilities in the city of Raqqa.
The office member, who declined to be named because he did not have permission to speak to the media, added that one of the laws on appointments to Autonomous Administration dedicates 5 percent for the appointment of persons with disabilities in Administration institutions. However, this law is still blocked and has not yet been implemented.
The member of the Employment Office noted that the Autonomous Administration and the Raqqa Civil Council were planning to establish a new mechanism to increase support for persons with disabilities and enhance their chances of obtaining a job in coordination with civil organizations.
The number of employees in Autonomous Administration institutions was approximately 182,185 persons, distributed to the Administration institutions in areas under its control in northern and eastern Syria in accordance with the staffing law approved by the Administration early last March.
US-supported project
On 11 January, the Hope Makers (Suna'a al-Amal) humanitarian organization, in coordination with the Autonomous Administration's Social Affairs and Labor Authority and with the support of the United States Agency for International Development (USAID), announced a project entitled "Support and Economic Assistance for the Empowerment of Persons with Disabilities."
Mahmoud al-Hadi, director of the Hope Makers Organization, said in a statement to North Press Agency that the project would run for two years and that it would include capacity-building activities for the organization and the creation of offices for persons with disabilities in Raqqa and Tabqa.
He also added that persons with disabilities would be employed within the case management process.
Within the project, steering committees will be appointed to manage loans and refunds. This project is the first of its kind for persons with disabilities in the region, according to the director of the organization.
if you think the article contain wrong information or you have additional details Send Correction