Northern Syria: Five Medical Centers Provided with Dialysis Supplies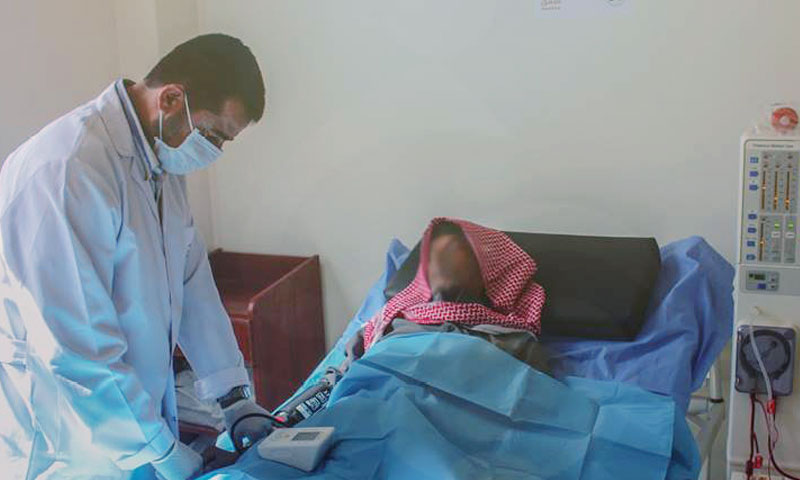 The Shafaq/Dawn Organization has initiated the second phase of its medical project, with which it seeks to provide Northern Syria's medical centers with dialysis supplies, announcing the opening of five new centers in the areas out of the Syrian regime's control in Idlib and Aleppo.  
The second phase started early this month and will continue to July, covering four centers in Idlib governorate; the Bab al-Hawa Medical Center, Maarrat al-Nu'man Center, Kafr Nabl Center and Trmala Center, in addition to a center in Darat Izza, western rural Aleppo.
According to Dr. Anass Barbour, head of the medical program of the Shafaq Organization, the number of people to benefit from the second phase is 234 beneficiaries who have kidney failure and are indeed for dialysis.
In an interview with Enab Baladi, Barbour added that the centers allocate ten monthly sessions for each of the 234 patients, offered for free.
The project, funded by the World Health Organization/WHO, supplying dialysis centers in Northern Syria with medicines and supplies needed for the sessions, knowing that it is supervised by the Shafaq Organization, in cooperation with Idlib Healthcare Directorate and Aleppo Healthcare Directorate.
Complementing a Previous Project
The opening of the new five centers is a continuation of a project, the implementation of which started last November and is to go on till April. In the first phase, seven centers in Idlib governorate were provided with dialysis supplies.
The centers are the following: Saraqib, Babilla, Bab al-Hawa, ibn Sīnā, Ariha, Qah and the Shafaq Organization's center, which have all been provided with medicines and supplies needed for conducting dialysis sessions, according to the head of the medical program under the Shafaq Organization.
He added that about 50 persons are benefiting from the services offered by the centers in Saraqib and Babilla, while 266 other beneficiaries are utilizing the services offered by the remaining five centers.
The WHO's statistics show that Syrian people suffering from kidney failure in Northern Syria-held by the opposition has reached 837 patients, the Medical Department of the Shafaq Organization told Enab Baladi.
Previously, the governorate of Idlib contained only two centers designated to patients with kidney failure; Idlib's Principal Center and the one in Atarib. They both offer dialysis services and conduct all needed medical tests for kidney failure patients.
A Lithotripsy Department was also initiated at the Shafaq Organization in the city of Idlib, specialized with breaking the kidney stone, and those formed in the bladder or the urinary tract, in addition to fluoroscopy and mammography.
This year, the medical sector in Idlib has been witnessing a remarkable development. Among the most prominent indicators is the first heart surgery in the Aqrabat Hospital, near the Syrian-Turkish border, despite the fact that, since 2011, the Syrian medical centers and personnel have been a constant target for violence.
Kidney Stones' Fragmentation Services Offered for Free in Idlib Governorate 
if you think the article contain wrong information or you have additional details Send Correction