Kidney patients suffer in northern Syria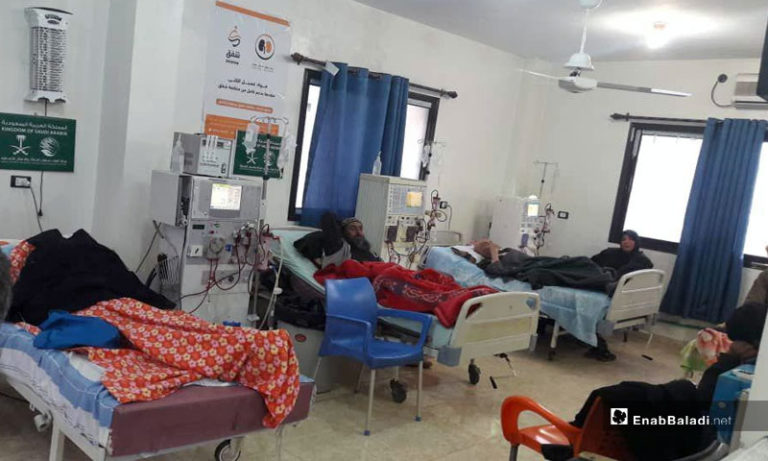 Idlib – Shadia Taataa | Dhilal (24 years old) is forced to go from the village of Killi in the countryside of Idlib to Bab al-Hawa Hospital on the Syrian-Turkish border, to undergo a dialysis session, by motorcycle with her father, which increases her pain.
Dhilal has been suffering from kidney failure since 2015, and she has to undergo three dialysis sessions a week, with each session lasting for approximately four hours. The high transportation cost aggravates the patients' difficulty in getting the treatment and increases their burden.
Like other patients with kidney failure, the suffering of Dhilal extends to securing medicines, which are not available in the hospital pharmacy, and can be obtained at a high price in the region.
Dhilal did not undergo kidney transplantation, as she has recently found out that there is a hole in her heart that causes fluid pressure on the chest, and therefore her health condition cannot bear two surgeries at the same time.
In addition to her health condition, Dhilal has only her father as a possible donor, and she refuses to let him donate his kidney, for fear of any complications that might befall him, with his responsibility to take care of her siblings.
High-prices
The specialist in internal and kidney diseases at Bab al-Hawa Hospital, Dr. Hassan Hamsho, told Enab Baladi that the hospitals provide "iron and epoetin injection" to patients, but the rest of the medications that patients with kidney failure need,, such as iron, calcium and diuretics, cannot be provided..
The doctor added that these medicines turn over time into a burden on the patient with his constant need to take them, in addition to analgesics and antibiotics that he needs when exposed to any other diseases.
Relapsing cases… towards Turkey
Abeer Ismail, from the northern countryside of Idlib, has a child with severe kidney failure. She told Enab Baladi that when the disease started, her daughter was not yet nine years old, and the doctor supervising her condition told her that she should undergo dialysis sessions or a kidney transplant surgery as soon as possible.
After several tests, it turned out that the mother was able to donate a kidney to her daughter, and the transplant operation was successfully carried out in Ibn al-Nafees Hospital in Damascus. However, after the outbreak of the revolution and the accompanying displacement and bombing events, the girl's kidney stopped working, and the suffering of the dialysis sessions returned.
Internal and kidney diseases specialist Hassan Hamsho denied the direct effect of the psychological factors on kidney patients, who have had successfully undergone kidney transplant surgeries.
Hamsho attributed the return of kidney failure to several medical factors, including not taking the right medicine dosages, with an increase or a decrease, in addition to the medical reasons that mainly led to kidney failure, which could affect the new kidney.
Abeer added that due to the interruption of the dialysis sessions, sometimes because of their high cost (up to $ 20 USD) and because of the fear that has afflicted her daughter, which has further deteriorated her condition, she was transferred to Turkey.
The mother was forced to return to Idlib and leave her daughter in Turkey to receive treatment on her own because she did not have official papers allowing her to stay next to her daughter, and she has not been able to see her for nearly a year and a half.
What cases are transferred to Turkey?
There are three cases that are transferred to Turkey: The first case is "kidney transplantation" due to the lack of this type of surgeries in non-regime areas, and the second includes some cases of kidney biopsy, which requires a pathology laboratory specializing in reading the kidney biopsy.
The third case is immunological conditions, the diagnosis of which requires analyses that are not currently available.
Some cases of children are transferred to undergo peritoneal dialysis, which is better than hemo-dialysis, and the first is currently unavailable in Idlib, especially in the absence of filters designed for children.
Difficulties facing the Syrian northern centers
Despite the availability of specialized centers spread in northern Syria, which are: Saraqib Center, Babilla, Bab al-Hawa Center, Ibn Sina Center, Qah and Jericho, and the main center of Shafak Organization in the city of Idlib. These centers are equipped with all the medications and medical consumables required for dialysis sessions, yet they are facing some difficulties, according to Dr. Hassan Hamsho.
Centers need an additional number of new dialysis machines, as old devices are suffering from frequent breakdowns, in addition to blankets that can only be used once, as the patient is now obliged to bring them from home with each dialysis session.
There is also a lack of small filters (currently available in sizes 1.6 and 1.8), and they are not suitable for children who need filters (0.4 and 0.6) and are even not currently available, in addition to the security situation, as the centers resort during the air strikes to shutting their doors, which puts additional pressure on the border posts.
if you think the article contain wrong information or you have additional details Send Correction