Kidney Stones' Fragmentation Services Offered for Free in Idlib Governorate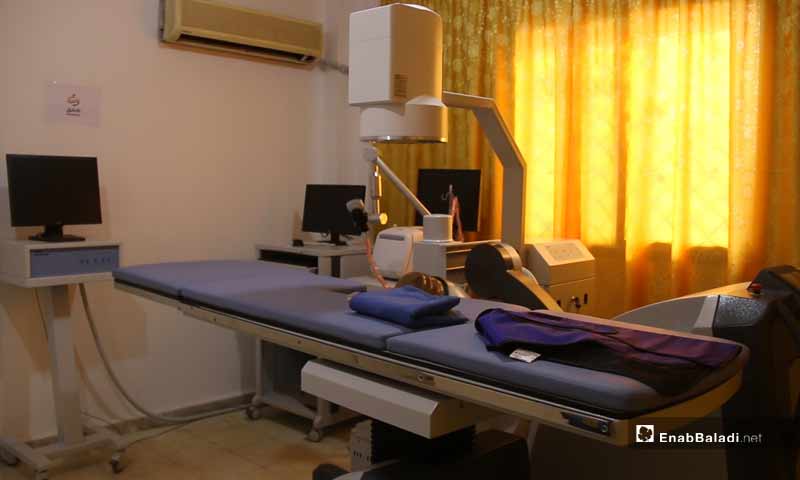 Within the context of the medical sector's development in Idlib governorate, the "Shafaq" Medical Center (Twilight) announced the launch of the Kidney Stone Fragmentation Department, with the most up to date and specialized devices that arrived in Northern Syria.
The device, first of its kind in the area, is specialized in the fragmentation of kidney, bladder and ureter stones, including examination and x-ray.
The "Shafaq" medical center functions in cooperation with the Healthcare Directorate in Idlib and the medical office of the city's local council; they all provide healthcare and medical services, aiming to provide medical care to the area populated with about 4.7 million people, according to the "Response Coordination" team's figures, issued on November 8.
The center's new device is specialized in the fragmentation of kidney, bladder and ureter stones, Jaber al-Dayikh, head of the new medical department, told Enab Baladi.
"The new device, through the echo tests it is able to conduct, can discover the less apparent stones that are usually transparent, making it difficult to be clearly seen," al-Dayikh, urologist, added.
The center offers the device's services for free, which alleviates some of the area's people's burdens, especially the poor and the displaced persons, according to "Abu Nidal," a man displaced from rural Damascus.
"Abu Nidal," a companion of one of the "Shafaq" center's patients, expressed the quality of the care he sensed during his visit to the new department.
Idlib governorate has several kidney stone fragmentation devices, but the problem lies in their old quality, in addition to their being at paid medical centers, spreading in different areas.
"Shafaq" medical center aims to ease the pressure suffered by the medical centers in the city of Idlib and its surrounding, and it has already offered services at the level of healthcare, the most important of which is the opening of a kidney dialysis center last year.
Early this month, the city of Idlib witnessed the opening of a center for the treatment of breast tumors and lymphoma, offering chemical therapy under the supervision of doctors specialized in cancer treatment.
This year, the medical sector in Idlib has been witnessing a remarkable development. Among the most prominent indicators is the first heart surgery in the Aqrabat Hospital, near the Syrian-Turkish borders.
Since 2011, the Syrian medical centers and personnel have been a target for violence. Last February, "Syrians for Truth and Justice," the "Syrian Archive" and "Bellingcat" issued a human rights report stating that eight hospitals in Idlib, covered by the "de-escalation" agreement, were targeted by the Syrian regime's and the Russian air forces in a single month.
if you think the article contain wrong information or you have additional details Send Correction