"ISIS" Releases Images of Prisoners it Says Were Injured by Coalition Airstrikes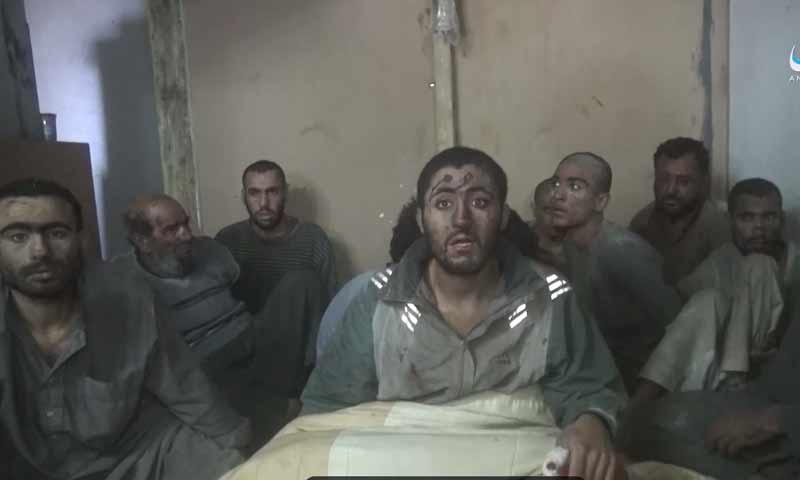 "ISIS" has released a video recording showing "Syrian Democratic Forces" (SDF) prisoners captured by the group in eastern Deir Ezzor Governorate which it says were targeted by international coalition airstrikes.
The ISIS-linked news outlet "Amaaq" released the recording on Thursday 29 November. The tape shows the location where the prisoners were being held and says that it was hit by an airstrike the previous day, with many detainees being killed and injured.
The recording – which Enab Baladi has seen but has not re-published here – shows some of the detainees in their prison uniforms, with a variety of injuries clearly visible. Some of their names and military designations are mentioned, with the tape appearing to confirm ISIS's claim that the site had been hit by a coalition airstrike.
ISIS had said in a statement the previous day that a number of SDF members which the group held captive had been killed and injured by airstrikes targeting a prison in al-Khashma village in the Hajin area in eastern Deir Ezzor.
Imagery released by Amaaq showed the extent of the damage caused by the strikes, as well as some of the dead bodies which were said to belong to SDF prisoners.
The injured detainees spoke in the video to the camera, saying that the airstrikes had hit the prison where they were being held in al-Kashma, and that several of their companions had been killed and injured.
Aircraft belonging to the US-led international coalition are continuing to target ISIS-held areas in the Hajin region in support of SDF fighters on the ground. These strikes have reportedly killed dozens of civilians over the past two months, although this is denied by the coalition.
Until the time of writing, the coalition and the SDF have not commented on ISIS's claims.
Regional media outlets – including "Deir Ezzor 24" – reported on Wednesday 28 November that several airstrikes had targeted al-Kashma and Abu al-Hassan municipalities in eastern Deir Ezzor.
Several days previously ISIS had announced the capture of several SDF fighters – while claiming to have killed dozens more – during attacks on several fronts in al-Shaafa and al-Bahra towns. The group then released video recordings showing the soldiers it had detained.
On Saturday 24 November ISIS launched an "intense" attack from multiple directions against the SDF, which aimed to take control of areas held by the latter east of the Euphrates river. ISIS launched this operation in order to take advantage of the heavy fog in the area at the time, and the consequent lack of flyover by supporting military aircraft.
ISIS currently holds the city of Hajin as well as some villages and municipalities in the surrounding area to the east of the Euphrates. The area is considered the last stronghold of the group in eastern Deir Ezzor Governorate.
if you think the article contain wrong information or you have additional details Send Correction