Flayers above Hajin Enclave, Eastern Euphrates, Calling Civilians to Leave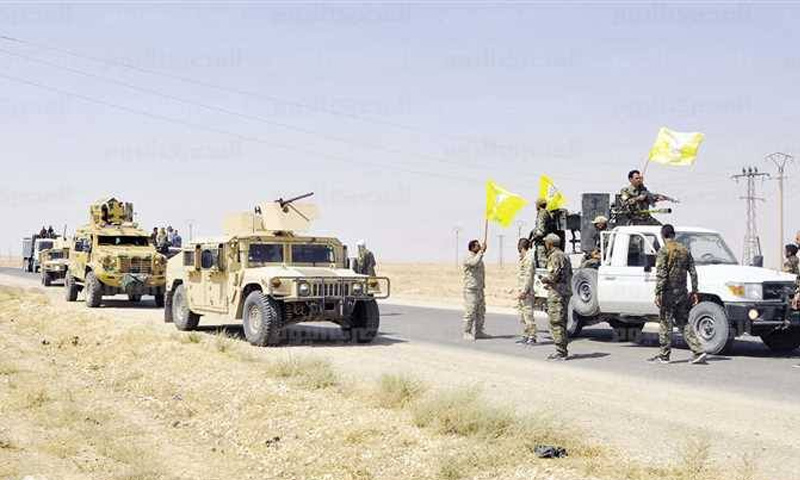 The US-led coalition has spread flayers over the Hajin enclave, east of the Euphrates river, in which it called the area's people to leave it, in sync with the battles against the "Islamic State" (ISIS).
Local networks in Deir ez-Zor have posted images of the flyers today, Saturday (October 13), which said: "The US-led coalition will soon conduct purification operations [. . .]. You are hungry and thirsty, surrender to the Syrian Democratic Forces and you will be treated humanely."
The "Syrian Democratic Forces" (SDF) is conducting operations against the Hajin enclave, rural Abu Kamal, considered the last of the "Islamic State's" strongholds in the eastern region.
In the last a few hours, the "Islamic State" has attacked "SDF" positions, in an attempt at recontroling the posts it lately lost, on top of which are the al-Susa and al-Baghuz Fawqani.
Triggered by the attacks, the US-led coalition bombarded the city of Hajin and its surrounding villages with white phosporus munitions, causing the death of several civilians.
The using of the white phosporus munition was confirmed by the local "Euphrates Post" network and the Syrian regime's affiliated media.
Despite the aerial and on ground artillery support, "SDF" failed to make a marked progress at the expense of the "Islamic State" in its last stronghold in the east of the Euphrates.
Throughout the past days, "SDF" has reported its progress in the area at different directions; however, the advancement is limited to a few meters, nothing like massive, large-scale progress.
The ISIS-affiliated "Amaaq" Agency has yesterday, Friday, posted pictures of "SDF" troops, dead through an attack on their posts in the areas of al-Shaafah and al-Susa.
According to the field map of control, the "Islamic State's" influence in Syria is currently restricted to two enclaves; the first extends from eastern rural Homs to Deir ez-Zor's desert and the second in the Hajin area, rural Abu Kamal.
The military operations conducted by "SDF" towards the Hajin enclave, start from four directions; Hajin, al-Shadadi, al-Kasrah and al-Baghuz.
if you think the article contain wrong information or you have additional details Send Correction