Turkish Military Convoy, including Tanks, Reaches Idlib to Reinforce Supervision Points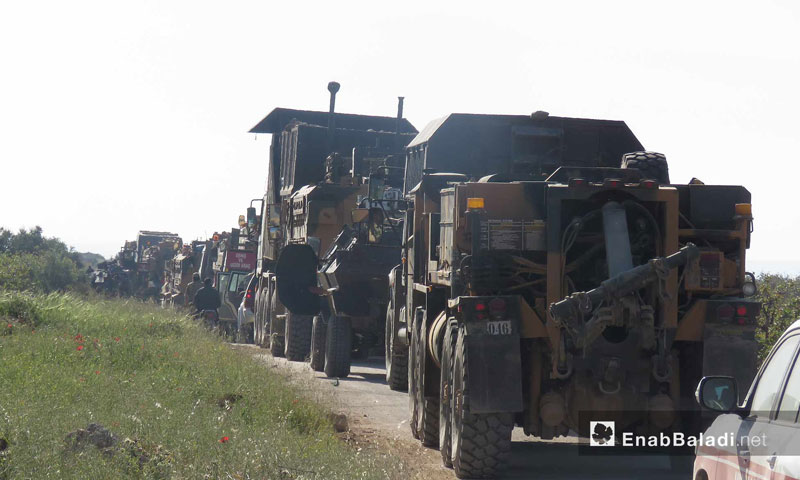 A Turkish military convoy, including tanks, arrives at Idlib, as to reinforce the supervision points, spread in the governorate under the "de-escalation" deal.
Enab Baladi's reporter in rural Idlib has today, Thursday (September 13), said that the convoy has already reached the supervision point in Murak, northern rural Hama, including tanks and armored vehicles.
Activists from Idlib posted a video showing the Turkish vehicles as heading towards Murak supervision point, rural Hama, saying that this step is the first of its kind, since the convoy includes upgraded tanks.
The convoy's arrival at Murak, corresponds to the continuous deployment of Turkish military reinforcements to the Turkish borders with Syria, without a clear reason for why Turkey would undertake such a step in the meantime.
The current developments came a week after the failure of the Tehran trilateral summit, which was also followed by a Turkish affirmation of non-retreat from Idlib, because it relates to Turkey's national security.
Since the beginning of 2018, the Turkish army installed 12 supervision points in Idlib under the "de-escalation" deal.
The Turkish army, in terms of spread in Idlib, has focused on "strategic" areas as to install the supervision points, depending on their proximity to the areas under Assad's forces and their Russian ally's control, or the geography which make the area, in relation to height and the scene they militarily reveal.
To the day Assad's forces continue to deploy military reinforcement to the surrounding of Idlib governorate, to start a military operation in the upcoming days.
For their part, the opposition factions, functioning in the area, have also sent "massive" reinforcements, especially to the western countryside of Aleppo, and the western rural parts of Idlib and Hama.
The Turkish Minister of Foreign Affairs Mevlüt Çavuşoğlu has in the past a few days said that the Turkish proposal for Idlib is "clear," represented by stopping the attacks and working to ultimately terminate the presence of the "terrorist groups."
Çavuşoğlu, in a joint conference which brought him together with his Polish and Romanian counterparts on September 11, has also called everyone to raise their voices against the attacks of the Syrian regime and to find a peaceful solution in Syria.
He also stressed that Turkey, during Tehran summit, in addition to "Astana" and "Sochi" meetings, has tried to prevent a massacre in Idlib, but the Syrian regime goes on attacking, pointing out that the regime and its Russian and Iranian supporters believe in the military solution.
if you think the article contain wrong information or you have additional details Send Correction