Turkey Installs Three Monitoring Points in Northern Hama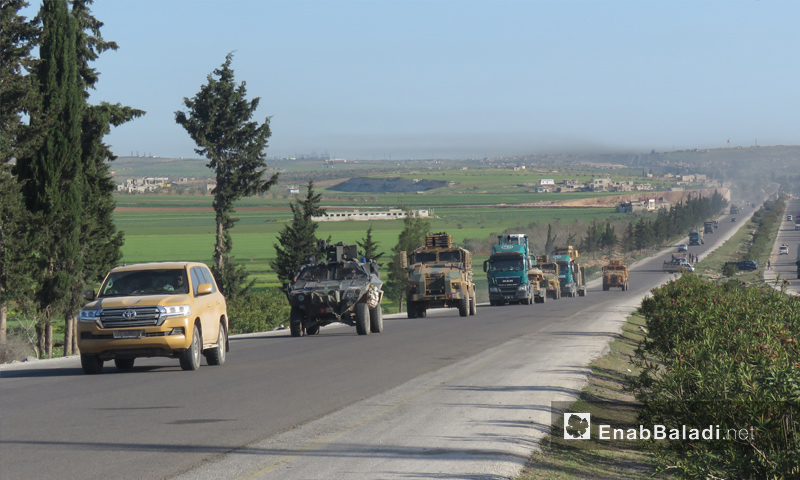 A Turkish convoy entered the northern countryside of Hama and installed three monitoring points within the frame of the "de-escalation" agreement, which included the area in last September.
Today, on Saturday 7 April, Enab Baladi's reporter in rural Hama has informed that the convoy consists of more than 50 military vehicles, including tanks, armoured vehicles and personnel carriers; it fixed monitoring points in the city of Murak and the two towns of Lahaya and Latmin surrounding it.
The reporter explained that installing the points followed the reconnaissance operations implemented by the Turkish army in the northern countryside of Hama and the southern countryside of Idlib, last week.
According to a report by Anadolu Agency, a convoy from the Turkish army has moved to the city of Mural to form the ninth monitoring point in Idlib governorate and rural Hama.
The Turkish General Staff announced, early last week, the installation of the eighth point, under the "de-escalation" agreement, but it did not define its location.
Turkey has installed seven points in the area, which spread in Anadan in the northern countryside of Aleppo, three points in the western countryside of Aleppo and another point in Talat al-Iss to the south of the governorate.
In addition to two points in the surrounding of Maarrat al-Nu'man and Tell Touqan in eastern Idlib.
The installation of the ninth point came two days after the meeting of the Turkish, Russian and Iranian presidents in Ankara, through which they discussed the Syrian file's developments, and confirmed the progress in the "Astana" Talks.
Ankara and Moscow, late in January, agreed to hasten the formation of a fourth monitoring point in Idlib governorate, under the "de-escalation" agreement, signed in October 2017.
The "Free" Hama Council, affiliate to the Syrian Interim Government, has called on Ankara to spread monitoring points in the governorate.
The Head of the Concil Nafe Barazi has, yesterday, said that the demand came as a result of the latest threats from Assad's forces and Russia to the areas in the western countryside of Hama in particular and rural Hama in general.
Barazi pointed out that "the military progress towards these areas threatens to displace more than 200 thousand people and to inflate the crisis, especially that we have already received the displaced people of Ghouta."
"The Turkish presence prevents the progress, stabilizes the areas and achieves security," he added.
if you think the article contain wrong information or you have additional details Send Correction