Turkey Retaliates to Attacks on its Observation Post in Murak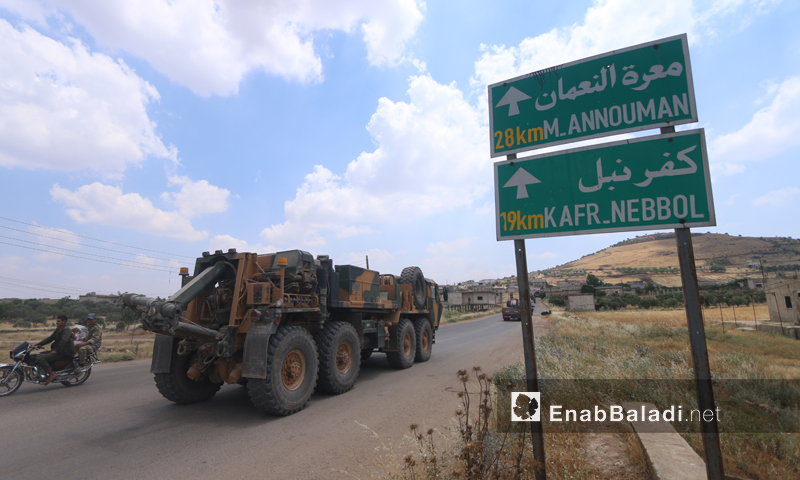 The Turkish Ministry of Defense stated that it has retaliated to the bombardment of its observation post in Murak, northern rural Hama.
In a statement released on Sunday, June 16, the Ministry added that its ninth post, located in Murak, was a target to mortar shells, launched by the Syrian regime-affiliated checkpoint of Tall Bazan, west of Murak city.
Enab Baladi's correspondent for rural Hama has today reported that the Assad forces have attacked the Turkish observation post at dawn, due to which fires broke out in the site.
Partial damage of equipment and facilities was recorded, but no casualties have fallen, the Ministry of Defense stated.
The Turkish Ministry of Defense added that necessary initiatives were taken with Moscow and the situation was being followed closely.
This is the second observation post, of those spreading in rural Hama and Idlib, to get attacked by Assad forces in three days.
The observation post situated in Shair al-Maghar, Shashabo Mountain, was hit more than once, particularly upon Assad forces' arrival in its western borders, the progress they achieved through taking over al-Hwaiz town.
Observation Post in Idlib Bombarded by Assad Forces, Turkish Ministry of Defense States
Following the attacks, the Turkish President Recep Tayyip Erdoğan warned against assaulting the Turkish army-affiliated posts. On Friday, He said: "If the attack on the military observation bases in Idlib continues, we shall not keep silent, and we would do what is necessary, nobody should doubt that."
He added that his government is closely watching the developments in Idlib and that the Syrian regime's persistence on attacking and shelling Idlib with phosphorus munition is "an unforgivable crime, which we cannot tolerate."
On September 17, 2018, Turkey sealed a deal with Russia in Sochi, providing for the establishment of a demilitarized zone between the areas held by the opposition and the Syrian regime-controlled ones in Idlib.
The area is of 15 km deep in Idlib and 20 km deep in al-Ghab Plain, western rural Hama, under the deal that the terms of which also necessitated the departure of the radical factions from the area agreed upon.
Early in 2018, the Turkish Army started to set up what has amounted to 12 observation posts in Idlib under the "de-escalation" agreement.
if you think the article contain wrong information or you have additional details Send Correction