"Desert Samurai," Once Honored by Russian in Syria, Dead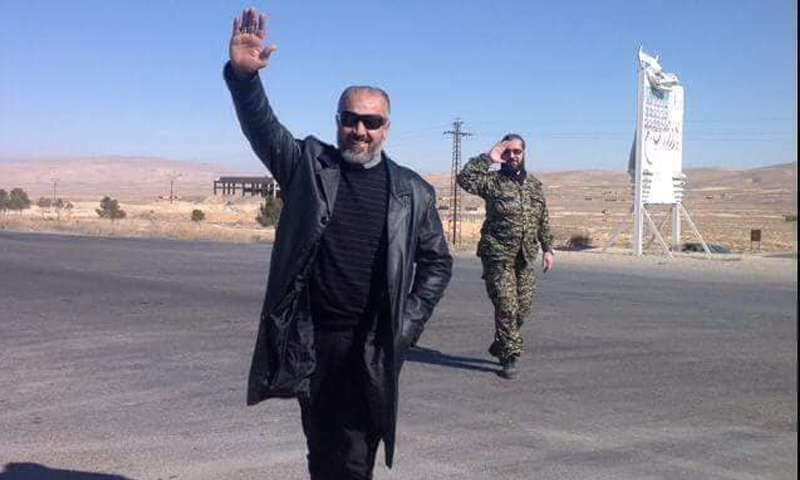 Mohammad Sahlab (Abu Ali), one of the top leaders of Assad's forces and the head of "Kadish" forces, was killed during a battle in Syria, the location of which was not mentioned.
On its "Facebook" page, "Kadish" forces has toady, Saturday (September 1), mourned the death of commander "Abu Ali," nicknamed the "Desert Samurai," saying that he martyred during a battle, without saying whether it took place in the eastern area or Idlib's surrounding.
It is likely that the commander was killed during the battles against the "Islamic State" in the desert of Asweida, according to what has been posted by loyalist networks in the city of Lattakia.
The  "Kadish" forces is a formation, the establishment of which was announced in 2014, functioning under the "Republican Guard."
It played an important role in the battles of Qalamoun which led to controlling its major cities and towns, including Yabroud, al-Nabek and Qara, in addition to its participation in the battles which led to capturing the city of Darayya, western rural Damascus.
"Abu Ali Sahalb" is one of the key leaders of the forces supporting Assad's forces, whom Russia has decorated with the "Order of Friendship," an order indicating the first rank.
The leader is from the city of Qardaha, rural Lattakia, according to loyalist networks. He participated in most Assad's forces military operations, especially those launched against the "Islamic State" in the eastern region.
He was injured many times, the last of which was during the Syrian Desert's battle last year.
In the past seven years, Assad's forces lost hundreds of its military leaders, in the battles against the "Islamic State" in particular.
The most prominent of whom are Major General Issam Zahreddine, who was killed in the city of Deir ez-Zor, General Walid Salloum Khawashikji, who was killed in Harasta, eastern Ghouta and Major Fuad Khaddour, who was killed in eastern rural Homs.
Leaders of the "Tiger Militia" under the command of Suheil al-Hassan were also killed, including Ali Adra, Wael Zidane and Thaer Ayyash, in addition to the Commander of the "al-Haydarat Regiment" Abdul Rahman al-Meer, the Commander of the "Cheetah Forces" militia and the "Segata" forces Ali Ibrahim "Abu Mousa".
Assad's forces' military operations are now focused on the eastern Syrian desert, the surrounding of Abu Kamal, rural Deir ez-Zor, and limited-scale battles in the eastern countryside of Homs.
if you think the article contain wrong information or you have additional details Send Correction