After Five Years Absence, a Project Provides Kafr Oweid Town with Water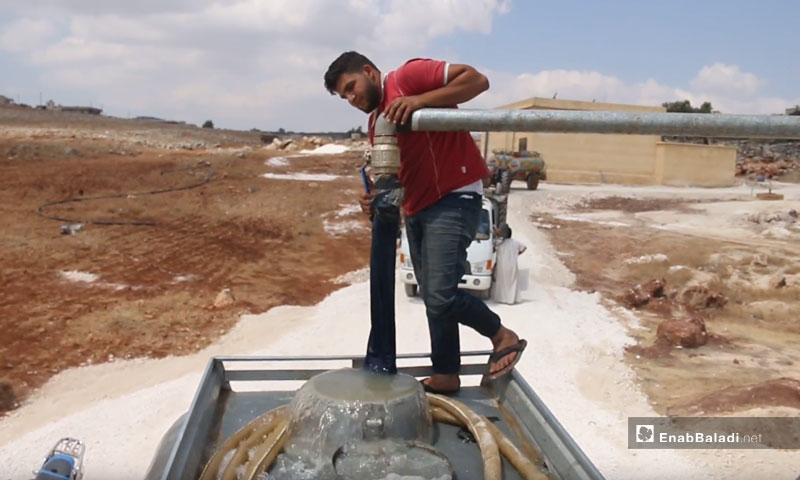 The local council at the town of Kafr Oweid, eastern rural Idlib, has launched a service-based project to supply the area with water, after a five-year absence.
The project consists of two wells in the area, fully prepared to provide the town's people with water that can be used for daily usage, in cooperation with "WATAN" Foundation, which adopted the implementation of the project financially, while the local council supervised the practical execution.
The people of the town started utilizing the well's water since the beginning of September, after years of suffering, represented bat by potable and daily-usage water absence, which to get they had to pay dearly.
The people of Kafr Oweid, 20 thousand and 800 people, depend on the water tanks which come from the city of Kafr Nabl, in return for each they had to pay five thousand Syrian pounds, which might also reach six thousand pounds per tank, the capacity of which is estimated with about 25 barrels, according to what Khaled al-Dudo, a man from the town, has told Enab Baladi.
For his turn, the head of the Kafr Oweid Local Council, Badee al-Murad, told Enab Baladi that the council has drilled the two wills with the area's people's money two years ago, as to provide them with water needed for daily usage. However, the council could not activate them back then.
He added that the council has communicated with "WATAN" Foundation concerning the activation of the wells, which showed readiness to cooperate, according to al-Murad, who pointed out that the Foundation has supplied the wells with plungers and generators, in addition to fuel needed for operating the latter, as well as tools necessary to pump the water.
Al-Murad mentioned the problem that faced the project's implementation process, for the water was planned to be pumped through the already existing pipelines in the town, but the entity concerned with the process found out that 50% of the network is destroyed due to the shelling that the town suffered in 2015.
Accordingly, the town's people were provided with water through tanks, which costs between 1500 to 2000 Syrian pounds each, depending on the area's distance from the wells.
The town of Kafr Oweid, eastern rural Idlib, was a target for a violent shelling during 2015 and 2016, which led to the deterioration of the services sector in the area, including the water, electricity and drainage networks, and the local council there is, today, seeking to develop the service reality despite the financial and security related obstacles it is facing.
if you think the article contain wrong information or you have additional details Send Correction