Commercial Projects Provide Income for Women in Southern Idlib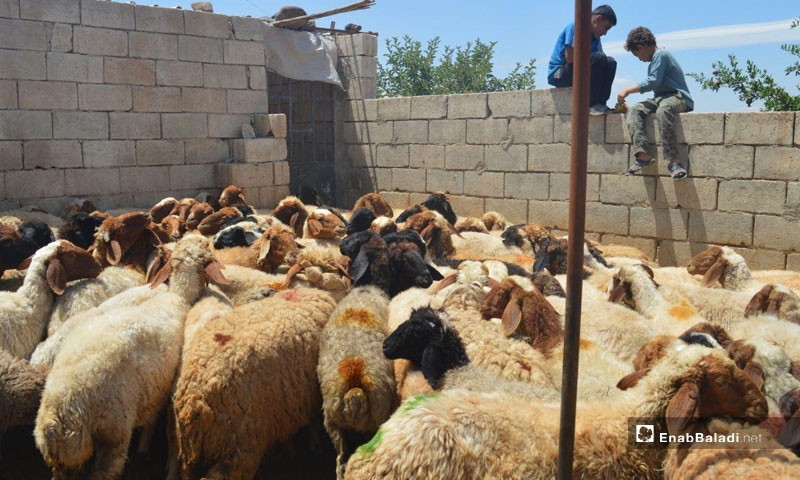 In an attempt at providing an income to families, whose breadwinners are made absent by war, "Ihsan" Relief and Development Organization, southern rural Idlib, launched a commercial project for the hundreds of women, responsible for making a living for their families, as to help them generate a persistent income.
The project, started by the Organization a few days ago, targets 260 women, with €750 for each of the beneficiaries, who meet the conditions provided by the project's managers.
The Organization did not name a specific project that it would provide with funding, leaving making this choice to the women beneficiaries, welcomed to propose projects, such as ranching, opening a shop or the like, which it then offers financial support within the designated budget.
The project covers women, who meet the initiative's basic conditions, of the population of Kafr Rumah, Hass, Kafr Nabl, Kafr Oweid and Ftireh towns, who are from 18 to 55 years old.
The project aims to enhance and empower the society's ability at production once more and support the afflicted and most vulnerable people under the dire conditions of this long war, according to Ali al-Dani, the head of the grants team of the organization.
A number of standards should be met by the women beneficiaries; the applicants must be widows or divorcees from the target areas, or breadwinners in families, where men cannot make a living for either being dead or disabled, al-Dani added.
Women who have ideas and experience in the field of the proposed project are prioritized, in addition to possessing factors including education, or at least the ability at reading and writing, which are prerequisites.
The conditions imposed on applicants also take the number of the family members into account, or the family having an orphan or a child with disability; they also focus on cases with infants or children younger than five years old.
These projects are usually more favored than food or money aid that is given all at once to people in need, as Fatima al-Hashem, one of the chosen beneficiaries, said, adding that the grant gives her the hope of starting a permanent project that would provide her with a monthly income.
The Organization's team continues the implementation process through a specialized group of doctors, including tow veterinarians who will check on the livestock, being one of the proposed and approved projects, and women will also be offered a manual about handling livestock.
Last August, "Ihsan" Relief and Development implemented a similar project as a first phase, and it is expected to execute a third phase early next year, according to al-Dani.
Evaluating the humanitarian needs of 2018, the United Nations estimated that 69% of Syrians are living below poverty line.
if you think the article contain wrong information or you have additional details Send Correction