"Caesar Families" Association: A Step on the Road to Justice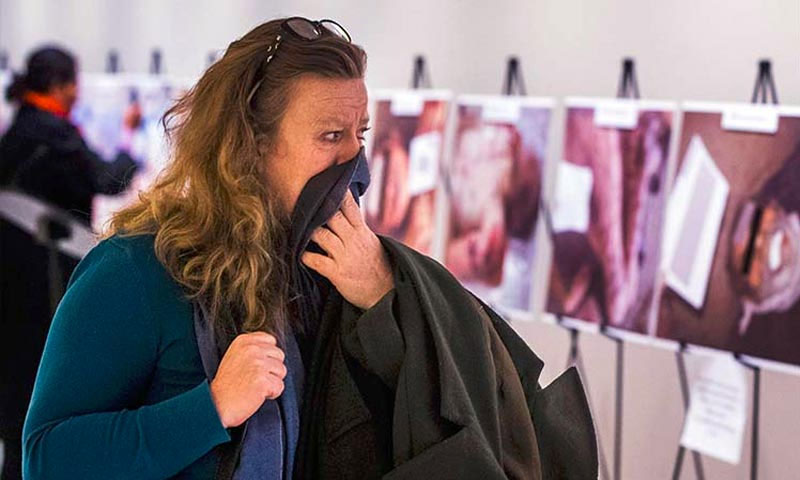 In a new step on the road to justice in Syria, a group of families of torture victims in Syrian regime prisons announced the formation of the "Caesar Families" association.
According to a statement published by the Association on Monday, June 25, on its Facebook page, it consists of the families of the detainees whose photos were published in the so-called "Caesar Photographs" exhibition, in the belief of the principle of justice and the rule of law.
Maryam al-Hallak, a member of the Association's founding team, told Enab Baladi that "We are the families of torture's martyrs, whose photos appeared and helped us know their destiny. We were, and we are still looking for a way to tell the world about what is happening in the Syrian prisons and the young men who are dying due to torture, starvation and sever beating".
The Association, according to the statement, aims to help victims' families receive and bury the remains of their relatives according to their own rituals, to provide moral and psychological support to the families of the victims, to know the fate of the remaining detainees and the disappeared, and to hold the criminals accountable.
The Association called on all families whose relatives' photos appeared in the "Caesar Photographs" to contact and join it to document crimes against detainees and to realize justice and accountability.
The Association's foundation coincides with the International Day in Support of Victims of Torture, proclaimed by the United Nations General Assembly in 1997 that is held annually on 26 June to speak out against the crime of torture and activate the Convention Against Torture, which is considered a crime against humanity.
"Caesar" is the pseudonym of a member of the Syrian regime's military security, who dissented in 2013 after leaking the images of the bodies of detainees, killed under torture in the military hospital, as he was assigned the task of taking pictures of the dead detainees to be archived in the government's files.
When "Caesar" published the photographs of more than 50,000 victims, some parents were able to identify the fate of their detained relatives.
According to a report, issued bey a specialized committee which examined the photographs, the people in the pictures were in the prisons of the regime between 2011 and 2013.
The Syrian regime was transporting their bodies to the military hospital and photographing them before burying them in rural areas in mass graves.
if you think the article contain wrong information or you have additional details Send Correction