Idlib: A Sports Day for People with Disability in Kafr Takharim Stadium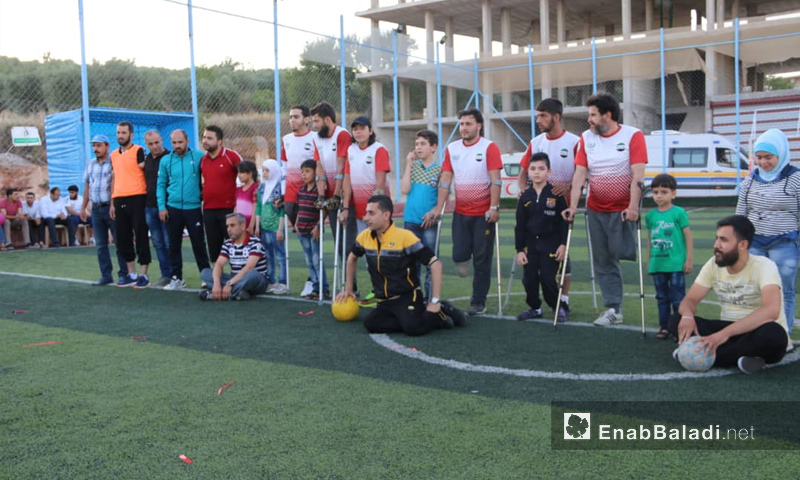 Kafr Takharim stadium, in the western countryside of Idlib, has hosted a sports day that joined children with disabilities, along with the participation of Umayya Club's amputees' team.
The event was held with the support of "Sanad" Organization for people with disabilities and the "Syrian Association for Special Syrians" on June 19, in coordination with Umayya Club and the al-Nukhbah Club in Idlib.
The sports' day started with activities that targeted 60 children with disabilities, some of whom children with Down syndrome, other with autism, motor impairments and poliomyelitis, said Mari Sheikh al-Haddadin, a physiotherapist and member of the Umayya Club.
Al-Haddadin told Enab Baladi that the event concluded with a football match between the team of amputees, 20 members, and the al-Nukhbah Club team, which ended in a draw between the two teams.
He pointed out that the event's goal is primarily to integrate children with disabilities and amputees into society and break the barrier of fear, as well as to tell the world that these people can have a normal life just like everyone else.
Figures on Amputees in Syria
The World Health Organization (WHO) estimates that more than 3 million Syrians suffer from disabilities and war injuries, calling for increased attention and support.
In a report published last December, the Organization reported that 1.5 million Syrians were disabled by conflict and war in Syria after 2011, with an average of 30,000 cases every month, noting that 86,000 of them were amputees, one third of whom are children.
The report attributed the increase in the number of "war-disabled" people to the use of new weapons and explosives, particularly barrel bombs and incendiary weapons used in the past seven years in Syria.
The Umayya Club in Idlib governorate pays special attention to amputees by organizing sports activities and helping them establish their own bodybuilding club. The Club also formed a 23-member football team, the majority of whom are amputees, who participated in a carnival match last November.
The sports activities were not limited to football, as Mohammed al-Haddadin, who was born in Idlib in 1988, explained that the players will continue their activities in table tennis, chess and iron games, as well as swimming exercises that begin with the summer, stressing this is done according to an integrated program and a special training on these activities.
if you think the article contain wrong information or you have additional details Send Correction