Rehabilitation center for children with special needs in Kafr Takharim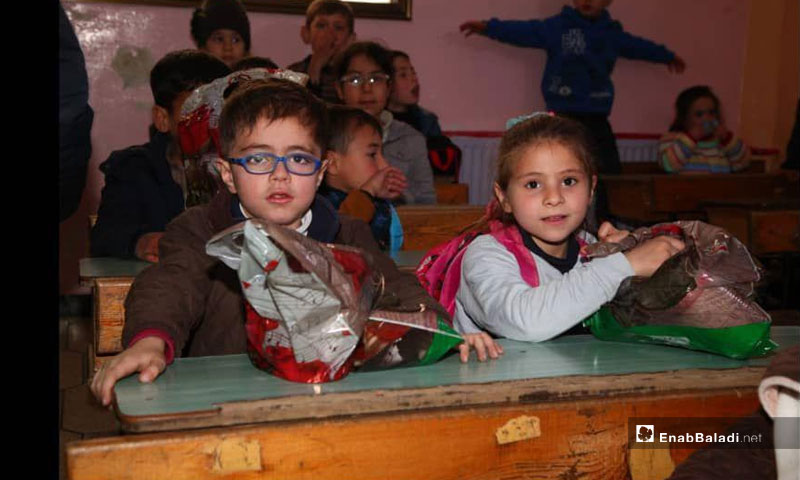 Idlib – Shadia al-Taataa
Since mid-2017, Sanad Center for Children with Special Needs in Kafr Takharim, north of Idlib, has been helping children with disabilities who have been prevented, because of the war conditions, from proper education. The center provides aid to children with autism, down syndrome, and children with hearing, visual and motor disabilities, aged between 6-14 years.
The director of the center, Ahmad al-Sarma, explained to Enab Baladi the center's work. Al-Sarma said that it hosts about 104 children, and aims to rehabilitate and help them rely on themselves, according to their abilities, and improve the quality of their life with his family and community in terms of rehabilitation, training and provision of appropriate education to each case.
Children starting to lead normal lives
Khitam al-Debl talked to Enab Baladi about her child Qussai Jammo, 10, living in the town of Armanaz in Idlib countryside, and the ways he has benefited from the services of Sanad Center.
Khitam said that her child is suffering from autism, and did not show any educational improvement in school, as there are no qualified teachers to deal with his condition. Fortunately, after joining his friends at Sanad Center, he has improved a lot, and became self-reliant in some of the things that he was unable to do before. He can nowadays receive schooling outside the center like any other child.
Khitam pointed out that there is a qualified and specialized educational staff at the center, to provide the best services for them, including physical education and exercises strengthening the muscles of the child's body.
Activities
The center also works to get children out of their mental state, and trains them in daily and community activities to participate in society, so that they won't be a burden on their families at home. It also trains them to live properly.
At Sanad Education Center, trainer Lubna Gibs told Enab Baladi that children, especially those with special needs, suffer from marginalization and the absence of medical, psychological and educational care, at a time when they desperately need those who care for them and help them to break free from their heavy needs. This lack of care limits their abilities and has a negative effect on their identity and potential.
Gibs explained that education is one of the most important rights for people with special needs, because it allows them to work, live in dignity, interact with society and achieve important social status.
She said referring to how she deals with children at the center: "I try to promote the spirit of hope in the child, integrate him with his classmates while avoiding criticism and embarrassment. I believe that it is necessary to highlight the talent and excellence of children in any field to help them regain confidence and integration in school life."
The trainer highlights the importance of parental engagement within the educational programs as it affects the child's adaptation to school.
The trainer advised mothers that the child should not be put under pressure during homeschooling, because any child needs to play, and all-time education generates repression.
She concluded: "Children with special needs must have special social, educational and psychological care that enriches their self-dependency and facilitates their integration and participation in society. For this purpose, Sanad Center for Children with Special Needs provided a glimmer of light that guides them away from the darkness of deficiency into a dignified life through learning, training and enhancing their skills."
if you think the article contain wrong information or you have additional details Send Correction