"I Have Another Brother": Ramadan Campaign Launched by Syrians in Turkey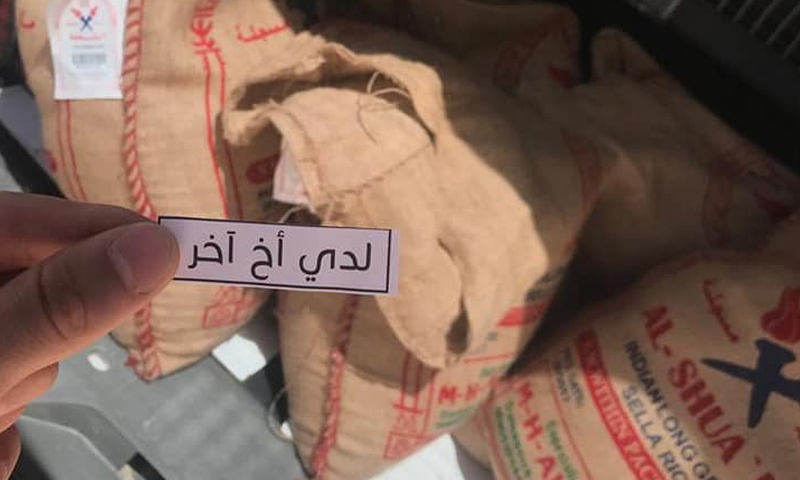 The "I Have Another Brother" campaign is being conducted for the fifth year in a row. In 2018, the event persists on its central idea, seeking to help the refugees who fled the war, thus directing its activities to a group of Syrian people who are based in Turkey.
The campaign is pure Syrian, triggered by teacher Sawsan Ladawi, after she thought of distributing Iftar meals to the Syrian families that are in a dire need in Turkey. The idea crystalized, throughout, the five years that ensued the first occurrence, after Ladawi managed to propose her idea to her surroundings. She told Enab Baladi that the idea was welcomed by her friends and other teachers who worked with her.
In the beginning, the idea focused on collecting meals from better off families in Turkey and then distributing them to families in need. However, in 2015, Sawsan Ladawi allocated the building of the school which she runs to cooking and coordinating the campaigns affairs, especially that schools are off during Ramadan.
The ground floor was used as a kitchen, and the first was preserved for preparing the clothes and distributing them to people, according to Ladawi.
She added that the campaign covers three areas in Istanbul: "Esenyurt," "Avcılar" and "Tepecik". Similarly, some meals are distributed to "Fatih" area which include a massive number of Syrians.
According to Sawsan Ladawi, the campaign's supervisor, the number of the presented meals reaches 700 daily meals. The total number of the offered meals, in 2017's Ramadan accumulated to 20 thousand and 541 meals.
Sawsan told Enab Baladi that the campaign aims to alleviate some of the economic burden from which many refugee Syrian families are suffring and due to which they are not able to provide their daily needs. The family's need is estimated according to a detection process that supervisors conduct by vesting homes.
She added that majority of the people who benefit from the campaign are orphans, widows and people with war-related injuries.
Turkey has received more than 3.5 million Syrian refugees since 2011, some of whom suffer from deteriorating living conditions because of the low salaries they receive, which do not cover the cost of living in Turkey.
As most of the workers in the "I Have Another Brother" campaign are volunteers, Sawsan Ladawi stressed the need to spread a culture of volunteerism among Syrians at home and in countries of asylum, as it promotes the concept of responsibility among Syrian youth, develops communication skills, patience and restraint.
Caption:
if you think the article contain wrong information or you have additional details Send Correction