Small Provisions for Ghouta IDPs in Northern Syria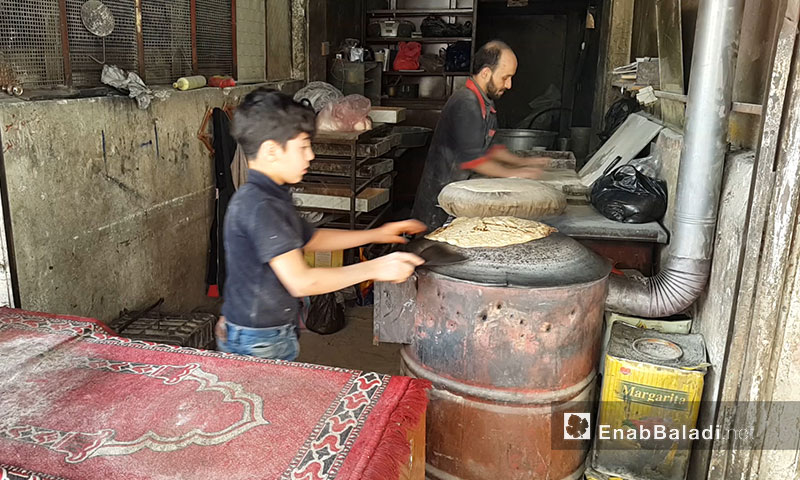 Within the frame of its efforts to support the displaced people of the town of Hamouriyah, Eastern Ghouta, the town's local council has, via the IPDs Committee it has formed, announced readiness to supply the people who would like to utilize their professions in northern Syria with provisions for the implementation of small projects.
In terms of budget, the provided sum of money does not exceed 295 dollars for each small project, which is provided according to certain conditions, on top of which is abstinence from investing the provision in selling unhealthy commodities, cigarettes for example, as Adanan Laila, the head of Hamouriyah Town Local Council, has told Enab Baladi.
The Hamouriyah IDP's Affairs Committee recovers the provision 180 days after delivery.
The head of the local council explained the criteria, according to which the beneficiaries are chosen; they compris the number of the family members, the urgency of the beneficiary's case and the project's budget.
For his part, Khaled Abu al-Walid, the financial manager of Hamouriyah Town Local Council, said that a small provision to finance a small project might help the people start their lives a new in the areas to which they have been displaced.
According to Lila, the local council is trying to get facilities and donations to support the people displaced from Ghouta to Northern Syria and help them work in a manner that preserve their dignity.
Even though the provided sum is modest and might not cover a project that would result in a sufficient income, it is still helpful, for the family's breadwinner will depend on him/herself three months after leaving Eastern Ghouta, said Wael Hamza, from the town of Hamouriyah.
The local council did not specify a date, on which these provisions will stop, for they will be available as long as the money intended to be given to the people remains available.
One of the challenges facing the local council's work is the absence of accurate statistics about the numbers of the people displaced from the town of Hamouriyah, in addition to the difficulty of knowing for sure the geographical space in which they have spread in Northern Syria, starting from Jarabulus, passing through southern Idlib and reaching Afrin.
if you think the article contain wrong information or you have additional details Send Correction