Northern Syria: Mobile Kitchen Offers Iftar to Fasting People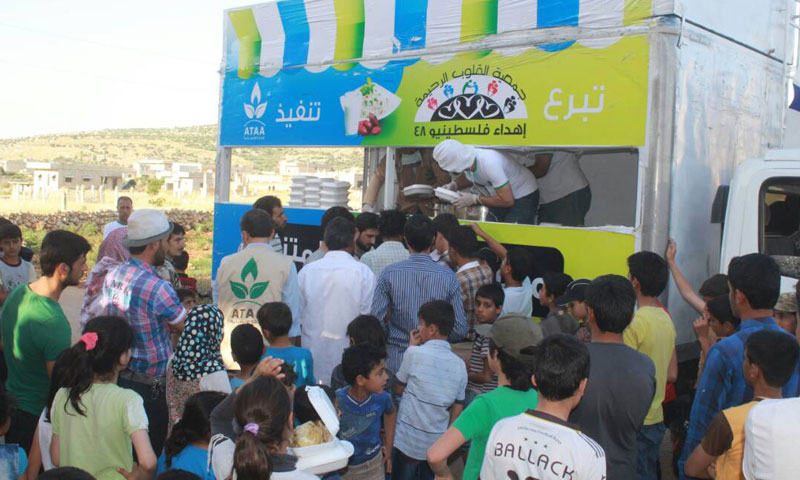 "Ataa" Association for Humanitarian Relief has launched a new Iftar project in Northern Syria; a mobile kitchen that provides people with daily meals for the whole duration of Ramadan.
The mobile kitchen, with all its equipment, roams different parts of the western countryside of Aleppo and rural Idlib. The first of its rounds started on the first day of Ramadan, May 17, 2018, in the town of Zardana, rural Idlib, then it visited the towns of Barisha, Htan and Ma'arrat al-Ashraf, as well as the city of Atarb in the western countryside of Aleppo.
Anas al-Naser, director of Ataa Association's media office, told Enab Baladi that the kitchen, provides daily meals to about 550 to 650 people, under a program planned for Ramadan and additional two months following it to end on August 15th after covering all the remote areas in Idlib and the western countryside of Aleppo.
The mobile kitchen offers meat and chicken kabasah, a dish made of rice, and broasted chicken, according to Al-Naser, who informed Enab Baladi that the International "Pitying Hearts" Society (IPHS) is financing the project.
In Northern Syria, the mobile kitchen is viewed as a "unique project," as the majority of the relief organizations there tend to offer the fasting people meals, either as "Ramadan Baskets" or large banquets on the streets, which in Syria are called "Mawaed al-Rahman."
"The project came as a response to the dire conditions that the people and the displaced are living in the small remote towns, which the charity organizations and associations cannot cover by constructing a fixed kitchen in each of them," said Ataa Association's media office's director.
He added that what triggered the idea of a mobile kitchen in the first place was the necessity to provide the towns' people and those who were displaced to it with an urgent need. The car, supplied with modern equipment, can reach all the target towns to provide their people with cooked meals, especially during Ramadan.
In sync, "Rahma" Relief Foundation constructed a fixed Ramadan kitchen in the city of Azaz in the northern countryside of Aleppo to offer daily Iftar meals to the people displaced from Eastern Ghouta, who are now housing the "Bel" camp.
Abdul Wahab Mohammad, Rahma group's director, told Enab Baladi that the kitchen distributes 400 to 500 daily meals, planning to continue offering its services after Ramadan as well.
"With the influx of a large number of displaced people to the northern countryside of Aleppo, it was necessary to alleviate some of their suffering and share the Ramadan atmosphere with them, by offering them cooked meals," he added.
The northern countryside of Aleppo has received thousands of displaced people from the different parts of Syria, the last of whom came from the cities and towns of Eastern Ghouta, Eastern Qalamun and Southern Damascus, who are living an ever-worsening life in caravans and tents.
if you think the article contain wrong information or you have additional details Send Correction