Ghouta's Women Attending Awareness Lectures about Social Misconceptions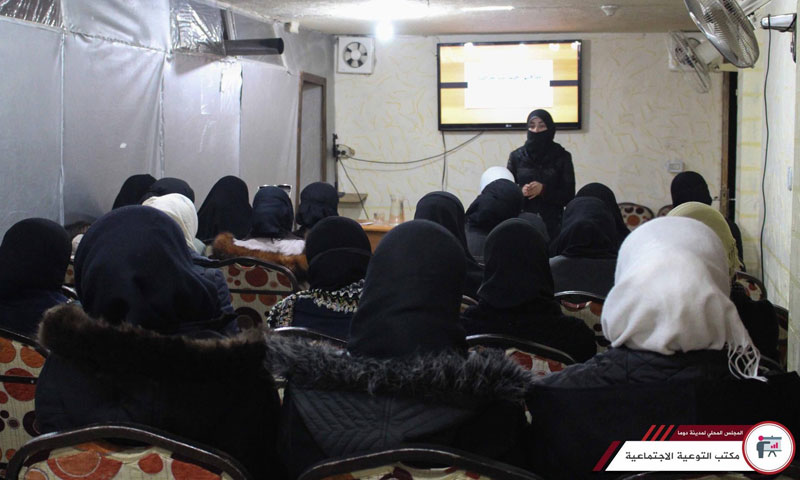 "Women and Social Awareness" Office of Duma's Local Council is running lectures about legal misconceptions targeting the less educated women in Ghouta, in cooperation with "DARB" organization, seeking to raise their social awareness.
The first lecture began on December 24, at the headquarters of Duma's Local Council, under the title "Social Misconceptions." The lecture is one of a series organized by the Awareness Office in accordance with a plan set by Amani Mohammed, the director of the office and a graduate of the Faculty of Law, who attributed the step to "the spread of ignorance in society, especially among women."
The lawyer told Enab Baladi that the lecture tackled a number of misconceptions and the methods of correcting them. She pointed out that she targeted the segment that is less educated and the women who are difficult to reach, as well as young women, brides to be, and a few cultured women.
According to the lecturer, the women attendees interacted with the proposed ideas. Some of them asked for similar lectures in the intermediate institutions and women centers as an attempt to correct the concepts adopted by society, to change pre-existing perspectives and fight ignorance.
Mrs. Rajaa Mohammad (50 years old) participated in the lecture. In an interview with Enab Baladi, she said that lectures should be directed to "young women who are about to get married, so they would identify the legal and Shariaa based rulings contextualizing the binding marriage contract, which might lessen problems and disputes."
Sana Salam, in her twenties, described the lectures as "important regarding disintegration and family fragmentation that is sweeping Ghouta, and in the shadow of the difficulties which women, who lost their husbands in shelling or detention, are facing."
In her interview with Enab Baladi, Sana pointed out to "the necessity of focusing on these subjects and raising awareness about them." She demanded that these lectures be organized on a monthly basis "to reach the largest portion of women, especially the uneducated ones to develop their conditions."
According to the Office's Director, the lecture will be constantly repeated. "We target women where they are, so we go to meet them and do not wait for them to come," considering every woman attendee as "an ambassador responsible for correcting the information she is receiving in her society and environment."
if you think the article contain wrong information or you have additional details Send Correction