An Exhibition of Homemade Food Products in Rural Idlib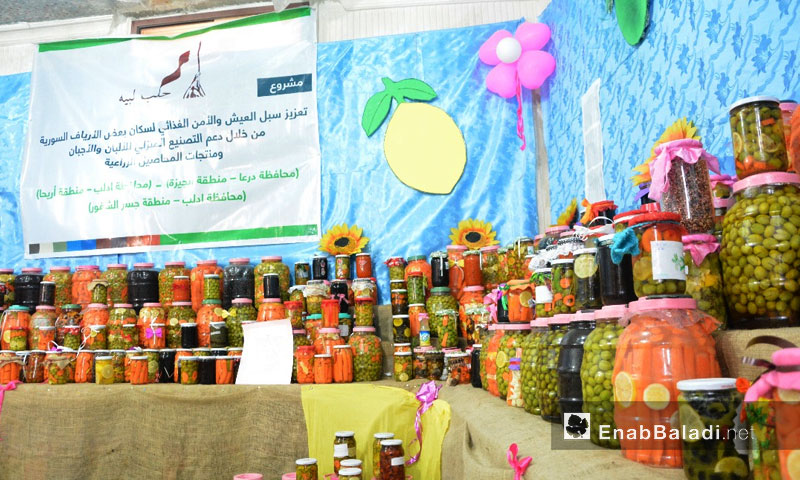 About a 100 families in rural Idlib governorate exhibited dozens of handmade food products in the context of the "Livelihoods" project run by "Halelp Labeh" campaign, to market the products and sell them, so the returns would go to the poor families that made them.
The exhibition took place in the village of Urum al-Jawz, on January 24; it presented a variety of products including olives, beverages, pomegranate molasses, pickles, and other materials. The amount of financial support for each family reached about $1800 according to the campaign's administration.
The Local Councils, in the targeted areas, contributed to distributing raw materials after signing a memorandum of understanding with the campaign's administration and the "poorest" families were chosen according to the Project Manager, Eng. Ahmed al-Darwish.
The food products were exhibited at the final phase of the food production project, "Livelihoods," which targeted the town of al-Shegher in Jisr al-Shughur and Maataram and Urum al-Jawz in Ariha in rural Idlib, as well as other villages in the "liberated" areas in Daraa.
According to al-Darwish, the project aims to enhance the livelihoods and food security of some residents in the countryside by supporting the domestic production of milk, cheese and agricultural products.
Samar al-Ali, a displaced woman from the city of Aleppo, participated in the manufacture of the products. She told Enab Baladi that the project lasted for almost a month, "The available time was suitable for all materials except the manufacture of pomegranate molasses. However, we made it."
According to Samar, the project provided raw materials, "we made edible materials, with the participation of many workers," hoping that the project would continue and be repeated.
According to Darwish, each family received one and a half tons of pomegranates, 100 kg of black olives and a similar amount of green olives, as well as 100 kg of carrots and 20 kg of lemon, salt, oil and other materials.
He spoke of reusing the remnants of the raw materials. "Participant families dried the pomegranate peel for use in leather tanning. The pomegranate seeds were also used for the production of thyme," he said indicating that the products were exhibited and some of them were sold. The money was given to the families involved in the project.
"Halep Labeh" is a campaign launched by Qatar National Day celebrations organizing committee to support and offer relief aid to the people who lived the massive suffering in the city of Aleppo during the displacement campaign that targeted them in December 2016.
if you think the article contain wrong information or you have additional details Send Correction