Workshop in Enab Baladi on Sources of Information in Investigative Journalism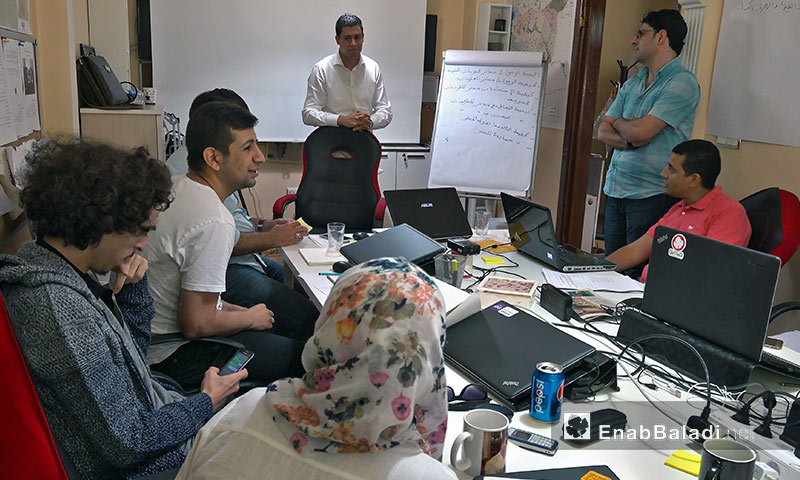 The investigative unit in Enab Baladi institution conducted training sessions on information sources in investigative journalism and the way to handle information. This was done during a workshop organized in Istanbul between 28 and 30 August 2017, with the participation of eight journalists.
Investigative journalism deals with investigation and disclosure. It needs renewed skills and experience to obtain information from multiple and different sources and this requires the investigative journalist to develop his tools.

 "The ability of the journalist to identify the list of sources and deal with it in a good way is considered as a magic stick for his success and for the success of investigative work."
The workshop sessions focused on information sources as it is considered the backbone of any investigative work.
On the first day, the Tunisian journalist Ghazi Mabrouk presented recent international models of dividing key sources into stakeholders, experts, people concerned with the issue as well as sources of assistance to open and public sources. Mabrouk talked also about the importance of setting a mental map for every investigation, which is the brainstorming operation the journalist does while looking for sources and when writing the hypothesis of the investigation.
On the second day, the workshop dealt with new methods of research, using applications and programs to access as many reliable sources as possible. Besides, the participants were briefed on professional standards on how to deal with sources of all kinds and on the strategy of auditing sources to get reliable information.
 "A successful investigative journalist is a person who can handle his sources of information well."
The last day's sessions were devoted to practical trainings, during which the participants presented proposals for investigative hypotheses on issues affecting the lives of Syrians that they will be working on in the coming months through the investigative journalism unit in Enab Baladi.
This workshop is part of the activities of the investigative journalism unit, which was launched by Enab Baladi on 1 November 2016, in order to strengthen the institute's in-depth press sections and also as a step towards establishing a comprehensive Syrian investigative journalism network that includes a wide range of Syrian institutions and independent journalists, through benefitting from the expertise of local, Arab and international journalists and trainers.
if you think the article contain wrong information or you have additional details Send Correction