Enab Baladi participated in Mobile Journalism Training (Mojo)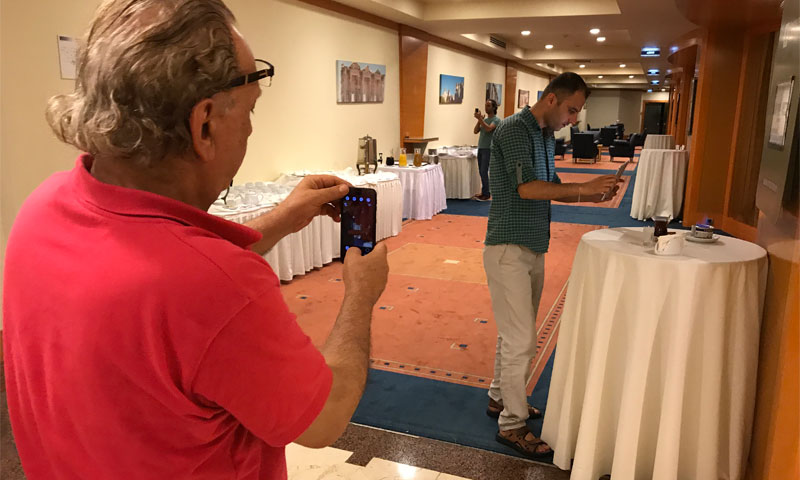 Eight Syrian journalists have completed the first level of mobile journalism (MOJO) at a workshop, organized in Istanbul, Turkeybetween 10 and 13 August, 2017 and animated by trainers Ahmed Suleiman from Egypt and Rasha Abdel al-Wahab from Jordan.
In addition to the journalists of local media institutions, the media department of Enab Baladi took part in intensive trainings about photography norms, press stories, building methods and their production using montage software provided by Smartphone's app stores.
The four-day workshopwas characterized by its theoretical and practical content, in addition to tackling the editorial side and the methods of preparing shooting plans and writing the script. Participants conducted practical experiments and applications on how to take pictures and conduct interviews by mobile phone. Participants also learned about the most important accessories that can be used to improve Technical QA (quality assurance) of their reports and press stories, such as lighting and audio equipment for mobile phones.
The Journalists who participated in the workshop produced five short films, which did not exceed 5 minutes and were initially filmed and processed during the workshop.
"Mojo" Mobile Journalism

Is the press that produces the visual content completely through the use of mobile technology, taking advantage of the characteristics of integrated cameras, and mobile editing applications.
Trainer Ahmed Suleiman declared that "mobile journalism is the future of press," because the world is developing rapidly. This is the fastest media to deliver content. He provides the example of some media outlets coverage which comes down by large teams to deliver news, but it cannot precede a journalist who goes into the field and films the story, montage it and send it through his phone whilestill in the heart of the  event. Mobile journalism is considered as the safest in the Arab world, because the spread of the mobile phones keeps its users safe and prevents the risk of harassment and arrest by authorities fighting journalists.
Trainer Rasha Abd al-Wahab believes that the mobile creates the so-called "citizen journalist", who provides media outlets with filmed news, through covering and transferring events easily, flexibly and less expensively.
In recent years, with the emergence of high technologies and features that help journalists shoot and visually produce, international press has witnessed a shift towards the use of mobile phones in the production of press content.. International festivals and competitions have been recently established to introduce films and filmed investigations produced  by means of  mobile phones.
if you think the article contain wrong information or you have additional details Send Correction