ECSM Organizes Sessions about Investigative Journalism for Syrian Journalists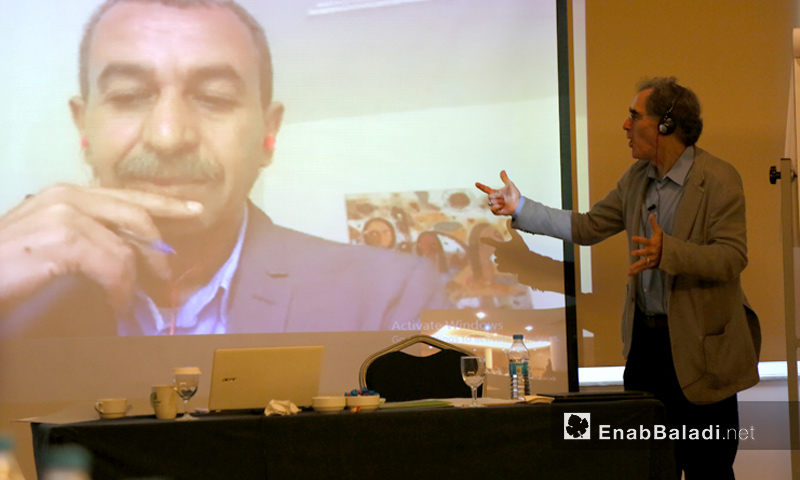 The Ethical Charter for Syrian Media has organized some briefing sessions on investigative journalism in the Arab world, conducted by the investigative journalism expert Mark Lee Hunter.
Enab Baladi has participated in the sessions held in Istanbul on July 2 that have been attended by around 20 journalists from different Syrian institutions. It discussed the importance of investigative journalism and its impact on society and examined opportunities for its application in the Syrian media.
Hunter, one of the most important journalists in this field and one of the founders of the global investigative journalism network, reviewed the concepts related to this type of journalism, why Syrians must venture into it, and the challenges they will have to face.
He explained the ways how to adopt a "hypothesis," arrange a working plan, find evidence, and how to connect all the investigative threads together.  He also discussed with journalists the most prominent issues and ethical strategies needed in the field.
A number of experts from the Arab world participated in the session via Skype. Among them was the Syrian journalist Hamoud Almahmoud, editor of the Arabic version of the Harvard Business Review, who has accomplished several investigative reports in Syria. He focused on how important it is for the journalist to acquire some experience to reach open access sources that help save time and effort and offer the kind of evidence that a journalist might spend several months to get access to.
Almahmoud cited an example of an investigative report made by The Guardian newspaper which proved the financial relationships among UN organizations, the Syrian regime associations and individuals whose names figure on US and European sanctions lists and which relied on "open access" sources from official UN sites.
The Egyptian journalist Yaser Zayat, the investigative journalism expert, listed a number of success stories of this type of investigation in the Arab world, pointing out that most of them were about simple social and health issues. They had a significant impact since they tackled issues that relate to people's daily lives.
On the role of female journalists in investigative journalism, the Tunisian journalist Hanan Zabis referred to a number of sensitive issues in which female journalists play a more effective role than their male counterparts.  She pointed to a number of experiences that she has personally lived through and cited some cases of investigative work where her sex worked for her benefit and where being a male journalist was of no real value.
However, she pointed to some experiences that were really risky and that would have caused her death in case they were revealed.  It is for this reason that she considers today that the ethical and professional work methods are the safest ways to gain access to evidence and proof. She actually thinks that no story that is worth telling is worth the life of a journalist.
At the end of last year, several investigative media specialized groups were established in Syria, including the Investigative Journalism Unit of Enab Baladi, which produced a number of in-depth investigations and a six-month investigative report, which is to be published soon this week.
The Egyptian journalist Mona Magdy conducts an introductory session during the briefing session on investigative journalism for Syrian journalists – July 2, 2017 (Enab Baladi)
The Egyptian expert Yaser Zayat in an intervention during the briefing session on investigative Journalism- July 2, 2017 (Enab Baladi)
The Tunisian Journalist  Hanan zbees in an intervention during the briefing session on investigative Journalism- July 2, 2017 (Enab Baladi)
if you think the article contain wrong information or you have additional details Send Correction