"The Thrifty Dish"… Simple Syrian Recipes to Serve for Ramadan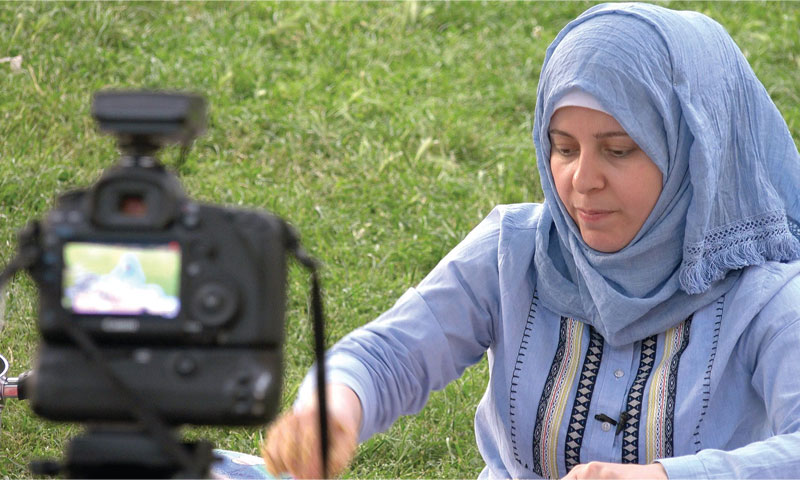 From behind a small table in a garden adjacent to Istanbul's historic wall, with a small ground gas stove and some plastic utensils at her side, the academic researcher Noor al-Khateeb prepares popular outdoor dishes and presents them in daily episodes that are posted on social media during Ramadan.
The scene may seem strangely ironic, but it is a general condition of the Syrian woman today, forced by the war to do things that she has never done before or seize the occasion of these conditions to walk through paths that she has never dared to tread before.
Noor, a Syrian young woman from the city of Raqqa, decided to get involved in a novel experience as presenter of a program in Ramadan about thrifty cooking, one that perfectly suits the conditions of the Syrians and their deteriorating financial status and also suits the purposes of her academic research.
"Frugal" and "Simple"
Perhaps the classic Arabic song "Al- basata albasata" that celebrates simplicity  (How wonderful is simplicity! .. we eat bread and olives for breakfast and potato for dinner) can be a realistic representation of the situation of some Syrians today. Despite the fact that a good number of them can afford decent living conditions, they feel nostalgic for their country before the war and its uncomplicated communal life that was reflected in its occupations, meals and social behaviors; and from whence the idea came to ​​the working team in Enab Baladi to bring the simple cuisine to the fore under the shade of trees in a public garden and with primitive tools and basic cooking materials and produce a daily ten-minute program with "The Thrifty Dish" as title.
"My aim is to familiarize my fellow citizens with traditional cuisine in all governorates," says Noor al-Khateeb, claiming that the program gives Syrians a grounding in popular dishes and their names with which the people of other provinces are not acquainted, having different customs, cultures and cooking traditions.
However, this idea of ​​familiarization had to fit in with the conditions the Syrians are going through in Syria because of the blockade, the high costs of living and the shortage in basic cooking ingredients and tools. The program relies on alternatives that are healthy and economic at the same time that are daily presented during Ramadan via frequently visited social media popular online platforms  in Syria such as YouTube and Facebook.
The word "thrifty" is broad in its meaning, says Noor, for it does not simply refer to the low cost of the dish but also to the ways it helps save time and effort because it relies mainly on simple materials and ingredients that are available in every home.
The program editors believe that the idea of ​​outdoor shooting in the gardens of Istanbul on a modest table behind which the program's presenter sits with her legs crossed has added more artistic value to the show and made it even more "agreeable" and exceptional to watch compared to most cooking programs, usually shot in well-equipped kitchens and indoor studios.
The open air studio has not been appreciated by some followers in social media websites who considered that this  presentation mode involves an underestimation of the value of Syrian cuisine. Others, however, simply admired the program and the chosen shooting locations and encouraged its presenter to carry on with the idea until after Ramadan.
To add a "family-friendly" flavor, Noor invited a young girl to some episodes. She said that she helped her reproduce a real-life  family situation in Ramadan. She added: "We appear onscreen in an intimate atmosphere, like a family at home."
Documenting Traditional Syrian Cuisine from Istanbul 
Bulgur, lentils and vegetables have been chosen by the presenter of the program to be the main ingredients in most of her cooking recipes, the same as the ones that were used by the ancestors to prepare traditional popular dishes and recipes that the Syrians still cherish.
Noor said she adopted some traditional dishes such as "Al-maghmouma al-Halabiya", "Al-Zakareet  al-Houraniya", "Al-Batirsh al-Hamawi", "Taggat matat al-Homsia", "Sitty Zabaa al-Shamiya" and other recipes that are exclusive to some Syrian governorates so as to achieve the goal she set for the program and have some unheard of meal recipes that many Syrians may be unfamiliar with documented.
She added that she "recorded every interesting comment people make on the dishes and that might help me develop a written documentation project on Syrian traditional cuisine".
As for the Arab cuisine of some particular countries, the presenter of the program said that it did not receive much attention from the Syrian public, who preferred to know the heritage of the Syrian cuisine. Perhaps the experience of the "Moroccan al-Hamisa " recipe, although not as popular, may be the starting point for ​​another program specialized in Arab cooking varieties.
Freshly "Frugal" Ideas
Thirty recipes are scheduled to be documented in the program by the end of Ramadan. However, the program team and the presenter believe that its idea may open up new horizons in the future and may be differently adopted in other varieties of television, research, or even economic programs.
Noor al-Khateeb pointed out that she intends to prepare a documentary encyclopedia about the Syrian traditional cuisine. She is considering the possibility of upgrading and expanding the same program in order to carry on presenting it after Ramadan. It may also include Arabic meals, confectioneries, salads and other recipes.
A Cook or a Researcher?
In her program "The Thrifty Dish", Noor has challenged the traditional images of the educated woman and the housewife. Though she obtained a Master's Degree in Arabic literature and is currently trying to carry on with her PhD, she did not hesitate to appear as a cook in the kitchen for the value she held to be residing in it.
"I prefer to appear as a researcher rather than as a cook, but investing my talent in cooking helps me represent the humanitarian situation of our people at home and document Syrian traditional cuisine," says Noor, explaining that she has taken cooking for a hobby and talent since she was a little girl rather than as profession and stressing that this will not affect her reputation as an academic scholar even if she gets involved in a different specialty.
Born in the city of Raqqa, Noor al-Khateeb, has worked as an Arabic language teacher and director of a school in Syria for seven years. She then left Syria in 2015 and worked as a radio programmer for "Shubbak" (window), which broadcasts online from Turkey, where she presented the program "When Istanbul Speaks Arabic". She is currently working on her Ph.D.
At the end of her interview with Enab Baladi, al-Khatib called on Syrian refugee women who are living abroad or internally displaced to create simple projects and professions of this kind, with whatever talents and hobbies they might have so as to preserve their self-esteem because "a hand at work is a shield against poverty".
https://www.youtube.com/watch?v=32rAduBsSo4&list=PLJ85m-Rh_svjCI1wIK2nFBiwBlyV15xd3
if you think the article contain wrong information or you have additional details Send Correction