Ramadan Sidewalk Merchandise Displays: Job Opportunities for Syrians in Urfa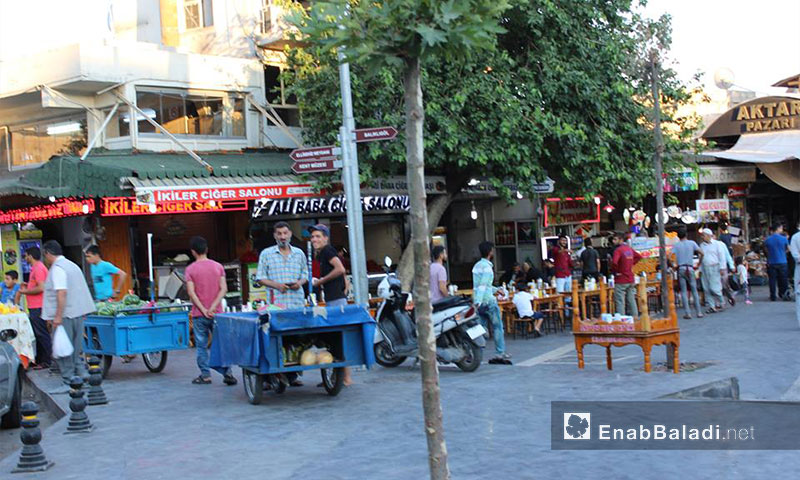 The Syrian young man Ali Mohsen, 25, wanders in the streets of the Turkish city of Urfa carrying large bags that contain various clothes and that have been directly bought from factories to be sold later on in Al-Hashimiya area near Al-Khazmali neighborhood at reasonable prices that make a trivial profit.

The Ramadan and Eid atmosphere in the Turkish governate of Urfa represents a commercial season and an occasion for creating job opportunities for Syrian refugees. It represents a good opportunity that many traders, including sidewalk merchants, seize so that they can sell all sorts of goods.
Mohsen displays his merchandise on a sidewalk in the " Arab Medan" area.  He asserts, "we have to observe the location very well and to take into account the number of visitors in the market and the mutual respect between us and our neighbors."
Mohsen's merchandise includes a wide variety of clothing, while others sell toys, various foods, juices and special Ramadan sweets, just before and after the call to prayer at sunset.
Shop Owners: "unfair" competition
"I move between the regions where I can sell my goods and where I feel most comfortable," added Mohsen to Enab Baladi, talking about how "furious" shop owners and some Turks can be. "They consider it as an unfair competition because we sell our merchandize at cheaper prices and are not burdened with taxes, bills, shipping fees and other expenses."
According to Turkish official statistics around 300,000 Syrians, out of around 750,000 in the whole city, live in the city of Urfa. Thousands of people are suffering from not being able to obtain legal residency in Turkey, and they are struggling to find jobs in order to support their families.
According to the young man in his twenties, some shop owners keep complaining to the municipal police in Urfa, which has actually stormed into various areas that it targeted in continuous campaigns and evacuated sidewalk merchants. However, during the month of Ramadan, "they just turn a blind eye to us," Mohsen said.
The public square of the "Medfa" in Urfa city center is dominated by the Syrian sidewalk merchandise displays. "The holy month of Ramadan brings bliss and prosperity, and I can provide for my family despite the limited number of work hours after breaking the fast from 9:00 p.m. until 2:00 a.m.," said Mohammed Khallouf, 32 years old, and the breadwinner of a family of seven, who sells toys for kids.
Not very far from him, Khallouf's two children sell tea and coffee. The young man hopes he can still carry on working even after Ramadan, though he already knows conditions will change and market commercial activities will be decreasing. "I cannot give up my only source of a living, and I think that any work is far better than staying at home," he said.
The young man in his thirties believes that the Syrians in Urfa are suffering from the problem of unemployment, which means that these simple commerce activities and the dependence on seasonal work "can provide them with a source of income even provisionally." He added: "Your small business, after all, may prosper, and you may own your own shop in the future."
Mohammed Al-Kurdi, a 25-year-old young man from the city of Raqqa who currently lives in Urfa, says that the sidewalk merchandise displays represent an opportunity to train young people to become self-employed and to integrate into the Turkish society. He thinks that they "save the Syrians from submission to a boss who has their fate in his hands."
Working in these sidewalk merchandise displays adds to the kind of professional experience they need to establish and manage larger projects, according Al-Kurdi, and provides them with some psychological and financial security without the constant fear of being dismissed from work, which is a dilemma that so many young people are caught it now.
if you think the article contain wrong information or you have additional details Send Correction