"Orphaned" Cars in Idlib … Identification Documents Held By Regime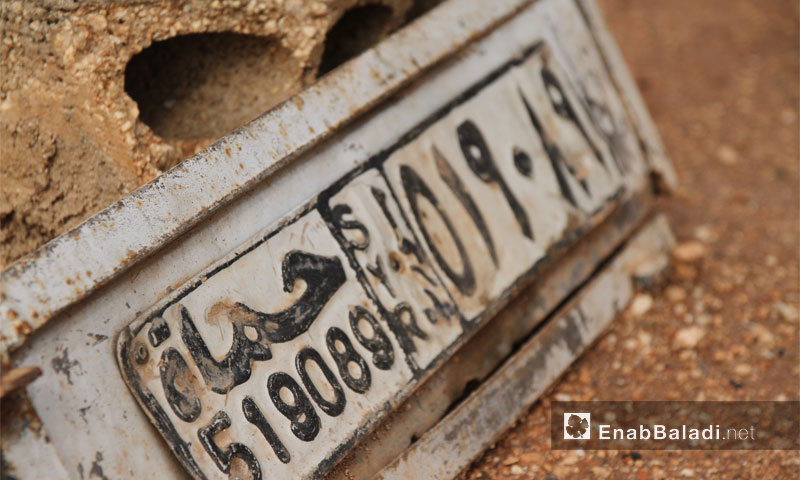 From one buyer to another, from Idlib's northern countryside to its southern countryside, the wheels of Bara al-Maari's car have been travelling far and wide before reaching him. Although he insists that he paid for and bought it "through legitimate means", he has no official papers to prove it. He knows little about the car other than that a relative of his who sold it to him had bought it from the city of Sarmada near the Syrian-Turkish border. 
What happened to Bara al-Maari is one of the most common problems facing residents of liberated areas in northern Syria, and in the province of Idlib in particular. Given the significant changes affecting the market for the sale of cars, smuggled cars brought in through Turkey have become more common than those officially registered in the records of traffic directorates.
In an attempt to identify the differences between smuggled cars and those officially registered, citizens of northern Idlib told Enab Baladi that cars in liberated northern Syria come from a variety of sources. Some of them come from the areas under the regime's control and are known as "regime cars" or "Syrian cars", while those arriving from other countries through Turkey are called "European cars".
Only "Syrian cars" have guaranteed identification documents
Owners of cars that were bought in from areas under the regime's control or those that were in the province of Idlib before the revolution have all their information recorded in a register, according to Jihad al-Khani, a car dealer from the eastern countryside of Idlib.
He added, "Regime cars have a record and are registered in the road traffic directorates under Bashar al-Assad's regime. Each record includes all documents that carry the name of the owner, details of its purchase and all the necessary information concerning the car."
As al-Khani confirmed, these cars are sold at a higher price than the smuggled cars, since they have "an identifiable source and that's what the buyer asks for, to be sure that the car was not stolen. They are in demand by people who use them to travel to regions under al-Assad's control."
"Laffa" cars are Syrian. However…  
Al-Khani told us that Syrian cars are not required to have official documents. A lack of documents can be justified in many cases, such as theft or loss. In this case, the car is called "laffa", which means that it is a Syrian car but has no official documents even though its source is known.
In this case, the price of the car drops by about 1000 dollars compared with similar cars. Al-Khani explained to Enab Baladi that when it comes to selling and buying these cars, "With some regime cars the seller is not present or cannot reach areas under al-Assad's control in order to sell his car. Some of them have only their registration certificates and number plates. In this case, the car is called a "regime car without 'faragha'."
However, a "laffa" Syrian car is treated as if it had no identification documents even if it has an official number plate. According to al-Khani, these cars are bought because of their low prices. Either the owner insures the car against theft by signing a contract of sale and certifying it in a court or he does not insure it at all and does not declare that he was its owner before selling it.
As Mohammed Raoui, a resident of the town of Dana in Idlib's northern countryside, explained, many use fraudulent means to obtain official documents for "laffa" cars and smuggled cars.
He explained that a lot of fraudsters create a fake registration certificate and identification documents for any car and then officially register it in the road traffic directorate in order to obtain a number plate. He claims that this is "very widespread and easy to do."
"Orphaned" European cars
The cars that enter Syrian territory through the border with Turkey and that are "flooding" the streets of Idlib's countryside are not subject to any contracts or official documents.
Kamal al-Hamw, who repairs cars in the city of Idlib, explained to Enab Baladi that people buy these cars without any contract or legal document. Yet many find ways to get around restrictions and obtain official documents for these cars.
One of the solutions used for obtaining documents for smuggled cars is to sign a sale and purchase contract in the presence of two witnesses. The contract is written just like a traditional sale and purchase contract between a seller and buyer and includes details of the sale and the sale price, and is signed in the presence of two witnesses. The problem with this kind of contract is that it is easily falsified.
Kamal added, "The best form of evidence is a contract that has been certified in one of the courts found throughout the liberated areas. This contract is signed in the presence of two witnesses and is registered in the court's records. It is more popular than a regular contract since it protects property rights over the car in case of emergency."
Kamal pointed out that some European cars have recently been arriving with documents that include information on the dealer and the time of entry through the border. These details are also registered in the contract.
Mohannad al-Abisi, a law graduate, believes that the cars registered in road traffic directorates that are linked to the al-Assad government remain the most secure in terms of sale and purchase procedures. Although a variety of  contracts can be used and new ways to prove ownership have been found, the "regime car" title removes all doubts and justifies the high price of such cars in the eyes of local residents.
if you think the article contain wrong information or you have additional details Send Correction