Syrian Doctor Talks to Enab Baladi About Winning Robot-assisted Surgery Competition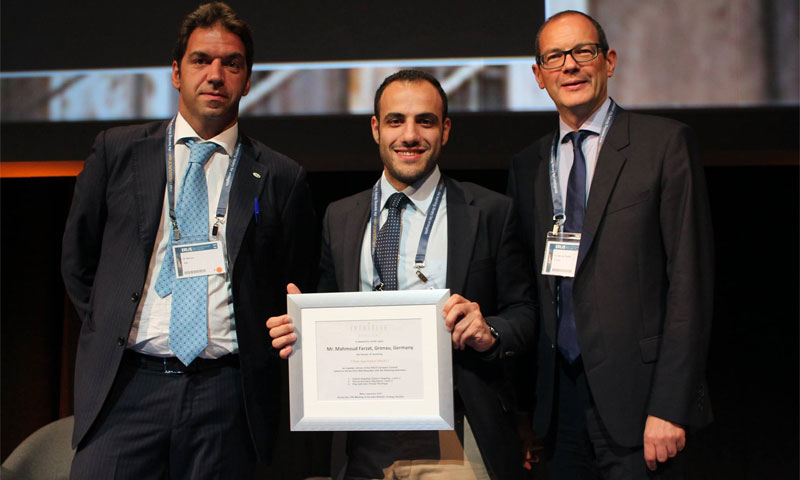 "I will go back to Syria if the situation ever improves there. After all, it is my home", says the young Syrian doctor Mahmoud Farzat. He says he did not expect to win first place in a competition for robot-assisted surgery in urology, as it requires great precision and less than one year has passed since he began learning.
The 29 year-old won first place at the European Association of Urology (EAU) Robot-Assisted Surgery Conference in the city of Milan in November, participating alongside dozens of other doctors.
Robot-assisted surgery uses robotic systems to aid in surgical procedures.

Experts and doctors see that robot-assisted surgery can overcome the limitations of pre-existing minimally-invasive surgical procedures and enhance the precision and capabilities of surgeons. Using cameras and precise surgical instruments that can enter into the patient's stomach, big incisions can be avoided, which reduces the recovery time after the operation.
Farzat managed to win first place by winning the largest number of points in a series of tests held throughout the day. Second place went to his Greek colleague by a large margin over the rest of the participants.
Farzat says that he aims to obtain the "certified robotic surgeons" qualification that is soon to be offered by the EAU for surgeons carrying out robot-assisted surgery.
The EAU awarded him the prize on 16 December at a conference of urology surgeons from across Europe. Farzat is expected to complete his studies in the field of robot-assisted surgery in urology next year. He says that he will try to take the specialization of robot-assisted surgery to Syria "if circumstances permit".
Farzat finished medical school in 2010, graduating from the University of Damascus. He worked at the surgery department of al-Mujtahid Hospital in Damascus for two years before leaving for Germany to continue his studies in the urology field in late 2012.
According to Enab Baladi's sources, Farzat is from Hama and is the son of the former Minister for Public Infrastructure and Housing, Hussein Mahmoud Farzat, in the Syrian government in 2013. Farzat attended the most prestigious high school in Hama, Othman al-Hourani Secondary School.
Farzat is not the only Syrian to achieve success in exile. Enab Baladi has reported many success stories across the world including the US, Germany, Sweden and other countries.
At the end of the interview, Farzat urged the many Syrians now living in the EU to focus on their goals so they can achieve their dreams and to take advantage of the opportunities available in their countries.
if you think the article contain wrong information or you have additional details Send Correction