Why Has the Evacuation of Civilians and Opposition Fighters Been Postponed?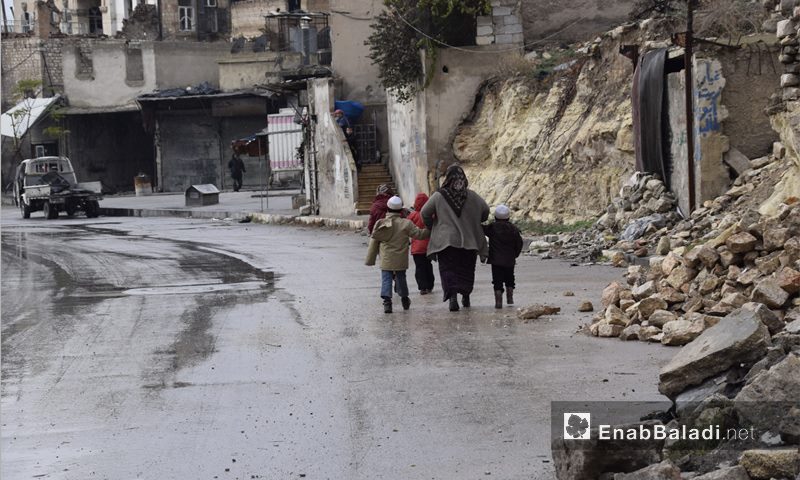 The evacuation of opposition leaders and civilians from Aleppo, which was supposed to start at dawn today, Wednesday 14 December, has been postponed.
Enab Baladi's correspondent in Aleppo reported that the evacuation had been postponed until tomorrow, Thursday, "because of objections by an Iranian militia that requested the evacuation of two injured people from the Shiite pro-regime towns of Kafriya and al-Fu'ah".
The Syrian opposition has agreed, after negotiations with Moscow, on a ceasefire in Aleppo and the evacuation of armed fighters carrying light weaponry to the northern countryside of Idlib.
Activists said the Shiite militias led by Iran rejected the agreement, which was reached through Turkish mediation. Ankara said that all the fighters would be moved to Idlib.
Enab Baladi spoke to Brigadier Adeeb al-Shallaf, the commander of the "Free Aleppo" police force yesterday evening, who told us that the police force had begun preparations to welcome people since the announcement of the agreement.
Some European countries, including France, are saying that the agreement is still uncertain and that the United Nations has to work on the ground.
The opposition is demanding the opening of the road from al-Amiriyya to al-Ramousa towards the "liberated" countryside.
Aleppo has witnessed difficult conditions under the attacks led by al-Assad forces and Shiite militias with Russian air support. The forces managed to seize control of over 90% of opposition areas in eastern Aleppo.
The agreement was for the opposition to leave Aleppo in groups via the al-Hajj bridge to the western neighborhoods of Aleppo and then head to al-Atarib in the western countryside of Aleppo. Activists said that Turkey would allow entry to its territory for those who sought to enter.
However, the Turkish Deputy Prime Minister, Mehmet Şimşek, announced in a tweet  that his country will build a refugee camp to "host those who are fleeing from Aleppo, which will accommodate around 80,000 people".
if you think the article contain wrong information or you have additional details Send Correction