Syrian Mouneer Al Shaarani composes his writing rhythms in Paris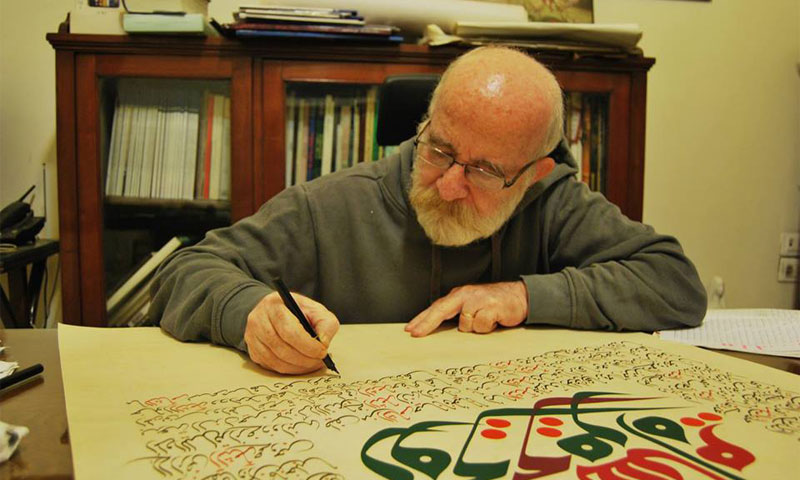 Hasan Motlaq – Enab Baladi
In Paris, attendees mill about, admiring different pieces of Arabic calligraphy whose creators intended them to be a medium of communicating with the audience. Plates displayed by the Syrian artist Mouneer Al Shaarani take the lead with calligraphic styles eagerly received by the viewers, a scene that has been repeated at exhibitions around the world since the 1980s.
Al Shaarani's plates, displayed on the walls of the Europia art gallery in Paris, vary between creativity, freedom, mysticism, humanity, and proverbs, representing the beauty of the letters in a style adopted by the Syrian calligrapher for over 40 years. Shaarani's more recent plates – those of the past three years that have been displayed in Paris since mid-September – are pictures that represent the artist's vision of freedom and other topics.
Shaarani says that his work approaches rightfulness, goodness, beauty, and humanity from different angles, as it inspires people to raise questions and use their minds, "especially our Man who suffers oppression, injustice and underdevelopment." He explains to Enab Baladi that this exhibition remains the same over 40 exhibitions, either individual or group exhibitions. "Rather," he says, "it consummates the previous ones in the same context."
Coming from Salamieh in Hama, the artist's plates were affected by the Syrian revolution from the very beginning. He says he wants to have his exhibition "Rhythmic lines" represent the themes of freedom, democracy, and reject the tyranny of the regime in a way that reflects the aspirations of the Syrian people to build their state where all people are equal, regardless of their religion, sect, ethnicity, or gender.
Al Shaarani, who studied in Damascus under the late, great calligrapher Badoui AlDeirani, does not put his work on display unless he is convinced with them, "therefore, he does not have a more endearing piece of work to my heart than another."
A 1977 graduate of the Faculty of Fine Arts at Damascus University, Al Shaarani participated in dozens of exhibitions among Arab and European countries as far away as the United States. He uses many different calligraphy styles, most notably Riq'ah, Naskh, Persian, Diwani, Thuluth, and Kufic. He participated in recent exhibitions in Sydney, Australia and in Jordan. He believes that such exhibitions "contribute in presenting a true picture of our culture and art, away from the stereotyping of the media and the distorted picture they offer."
Al Shaarani has lived in Damascus since 2004 and believes that his Arabic calligraphic works are more like music that speak to the eye, hoping that his artist peers would proceed in bringing back the Arabic calligraphy to its rightful status as an art and not as a supplement connected to the sacred or linked to religious functions, or even as a craft.
The calligrapher says has no intention to leave Damascus to become a refugee in another country. He asserts his continuation in designing and art to add on awards, compositions and new dimensions to the Arabic calligraphy that would increase the abundant friendship he formed with the letters and words, seeking to blend his skills with the beauty of the Arabic letter as a legacy rooted for decades.
if you think the article contain wrong information or you have additional details Send Correction