Dedicates his Graduation to his "Martyr" Brother
A Syrian Comes in First at the Faculty of Mass Communication in Jordan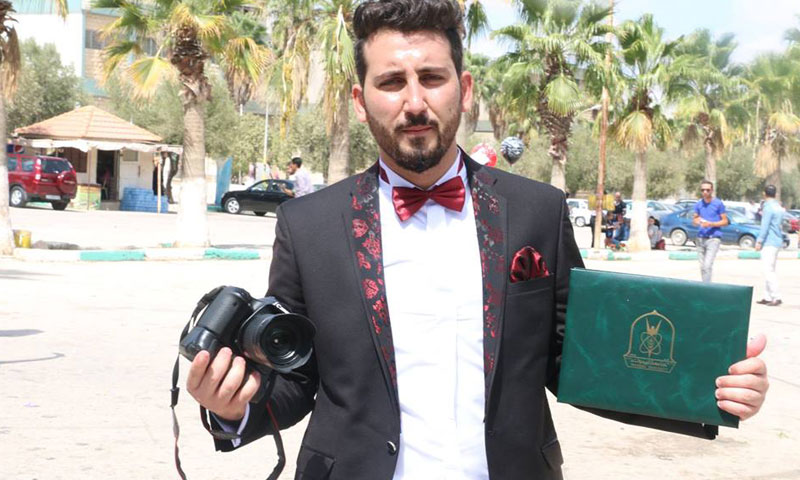 Abdullah Waleed Al Khateeb, a young Syrian man, came in first at the Faculty of Mass Communication – "Radio and Television" sector –at Yarmouk University in Irbid, Jordan, to record another Syrian refugee success story.
At a party held by the university on Tuesday, September 6th, attended by hundreds of students and families, Khateeb graduated with an average of 91.4%, excelling all of his peers.
Enab Baladi interviewed Abdullah Al Khateeb, who shared some of his life's details. He talked about his participation in the peaceful revolution against the Syrian regime while living in Benish, located in the countryside of Idlib. He joined the revolution once it first started in March 2011, but he left the country in 2013 to study media at Yarmouk University.
When asked if he will continue his education or pursue a career, Khateeb said, "In fact if I could do both study and work that would be the best solution. But right now I am trying to find an opportunity, whether it be studying or an occupation."
Khateeb dedicated his success to his "martyr" brother, Huzaifa Waleed Al Khateeb, who was assassinated in August, 2011, by "treachery" of a village that neighbored Benish. His death occurred just a few days prior to graduating from the Faculty of Architecture at the University of Aleppo.
He also dedicated his success to, "Every single person who has been assassinated by treachery bullets, just beforegraduation, to every single person who was not able to finish his study due to his family's blood staining his identity papers or the wreck of his house."
Khateeb took advantage of his graduation party to use revolutionary chants, stressing the continuation of the revolution against the Syrian regime, saying "There is no such thing as forever… there is no forever… long live Syria…fall for Assad."
if you think the article contain wrong information or you have additional details Send Correction